Join my tribe of thousands of moms who say NO to spanking, YES to unconditional love -- and get my eBook filled with my favorite holiday recipes (all vegetarian & gluten free) FREE! Enjoy!
Welcome, mama!
You will find here a breathing space with healthy, nourishing recipes, and inspiration to live motherhood to the fullest.
About Joanna Steven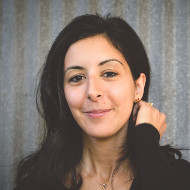 Joanna Steven is an Amazon best-selling author, an attachment parenting mom, and the creator of The Nourished Village. Her mission is to inspire mothers and make their life easier so they feel nurtured, nourished, and better able to raise children in a peaceful way. She regularly updates her blog with delicious, wholesome recipes, and lifestyle tips for moms seeking to live motherhood to the fullest.
Testimonials
Joanna brings so much knowledge and wisdom to the table, from gentle parenting to what makes a healthy and sustainable diet, all with confidence and calmness. You just want to listen to what she has to say! (Kelly M., Israel)


- Kelly M., Israel

Joanna always shows through her example a calm, loving, and assertive way… 'Tis everything!! She oozes common sense and is down to earth, whilst never compromising her principles. I always turn to her when I want to chew the fat with a likeminded parent, one whom I respect very much indeed! (Victoria L., UK)


- Victoria, UK

Joanna's blog, groups, newsletters, and ebooks have all helped me be a better mom. Her Nourished Village community has really brought new meaning to "It takes a village". I have like-minded moms to talk to without any judgement or criticism. I only wish this village really existed! (Lauren N., USA)


- Lauren N., USA

Joanna is a wonderful coach who really understands your struggles, and helps you out in a positive and uplifting way. She is a  big inspiration to me and helped me find back my own strength and motivation to live the best life possible! (Celine M., Netherlands)

- Celine M., Netherlands

Joanna is such a great coach. She taught me a lot about eating and finding balance in many different situations, including breastfeeding and pregnancy. She's a big source of support, and inspired me to live a healthier, happier life. (Michaela S., Austria)

- Michaelia S., Austria