Every once in a while, I spot an article about how being a stay at home mom is difficult. Well, yea, of course it is! Can you imagine a job where you don't get to pee alone, you can't eat alone and you need to feed a few other mouths at the same time, and you constantly have to make sure your coworkers don't dig up the houseplants or stuff rocks in their mouths? And yet, moms still feel the need to justify themselves. They don't. Moms everywhere, you're doing awesome! Anyone who thinks you have it easy never had kids.
That being said, I have found subtle ways to make my days more pleasant. Here's my top 5:
1. I take a few seconds to pamper myself. I wear earrings, or a little make up, or massage my face with a hydrating cream when I'm in the bathroom. Why? Because it's one way for me to take care of myself, and the repercussions are obvious throughout the day. If I'm tired, but pass by a mirror and see myself with earrings or a little make-up, it's a reminder that I did something for myself today. Compare that to looking at myself and thinking I look like hell… Big difference. And these things take seconds to do. They're worth it!
2. I sprinkle the house with nice scents. I like to put essential oils in the toilet tank so that I am surprised by the nice scent of spearmint when I flush it. I like to sprinkle some on a pretty essential oil diffuser as well. I like to rub a little orange essential oil on my wrist for me to smell whenever I need a boost. I like to keep lemon peels, and run them through the garbage disposal at the end of the day. Smelling good things makes you take a deep breath, and time stops for a moment. My favorite oils are from Mountain Rose Herbs.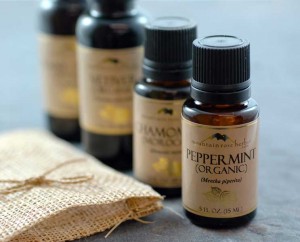 3. I don't stay idle. There's nothing worse (to me) than being home with my kids when they're bored. And, they're generally always bored when we're home. I used to love sitting on the couch with Franklin to cuddle and read books while drinking tea, but now I have a toddler, and he just won't let me do that. I need both of them to be entertained, and it generally doesn't happen unless we're out and about. So, before I go to bed, I plan the next day. Do we have play dates scheduled? Great. If not, we go to the library, we go to indoor playgrounds, we go to parks, forests… Whatever it takes to make the day go by faster.
4. I keep chocolate in my car door. Sometimes, it's hard to keep your cool, but it's always easier to not snap at your kids if your mouth is full of chocolate. True story. So, I keep Alter Eco black truffles or Green & Black toffee chocolate in the door of my car, and when things are tough, I just pop a piece in my mouth. I highly recommend it!
5. I stay hydrated with drinks that make me happy. Back in France, I drank water all the time. Bottled water is heavily advertised there, and one brand even got David Bowie to star in their ad. In the US though, I don't drink as much water, and prefer organic coconut water, kombucha, green juice, and herbal teas (my favorites right now are vanilla honeybush and rooibos chai).
What do you do to make your day easier?