Only moms understand why evenings are the most difficult part of the day. Kids are tired, getting cranky, and might be hungry. Husbands are often tired, if they are even home. And we, after a full day of work or being with our children (it's work too!), have to make dinner and hopefully go to bed with a clean kitchen. It's not always easy! And while husbands can definitely cook, those of us with picky palates high standards would rather do it themselves. Yes, I want my food to be nourishing, organic, perfectly cooked, delicious, fresh, and I don't want a massive mountain of dishes to clean afterwards.
Sounds impossible? It's not. After 7 years of cooking for myself and Matthew, and then 4 more years of cooking with children, I've developed many recipes that fit the bill. One of them is what I call the "New Seasons Fajitas Bowl." I created it to celebrate my favorite grocery store in Portland, New Seasons (my mom is obsessed with it, too). It's like a Whole Foods store, except prices aren't outrageous, employees are super friendly, and it's a B corporation. If I wasn't so passionate about working for myself, I'd work there!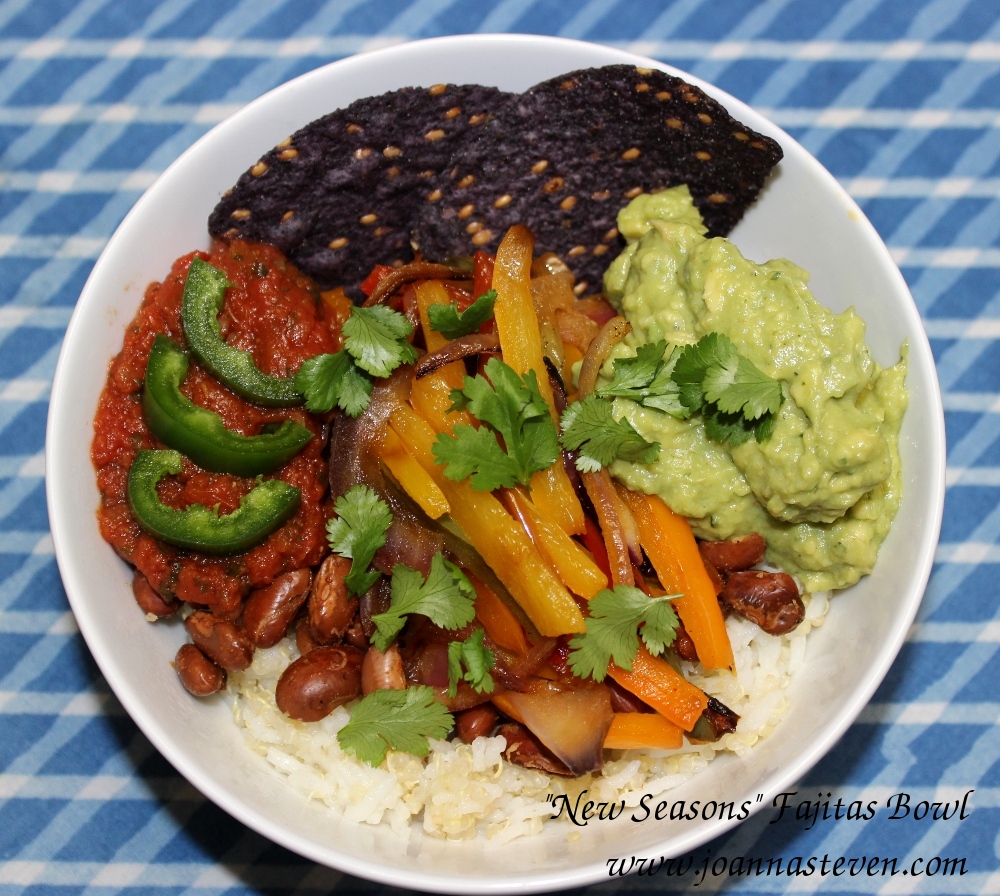 Thanks to the work of the produce department at New Seasons, this delicious, nutritious bowl is ready in less than 30 minutes. And yes, apparently Fajitas refers to meat served with veggies and fixings. This meal is all-vegetarian, however. But with spicy jalapenos, smooth guacamole, crunchy blue corn chips, and all the other mouthwatering ingredients, you will be totally satisfied.
This is the Fajitas Mix, below. It's by the salsa, guacamole, freshly cut fruit, etc.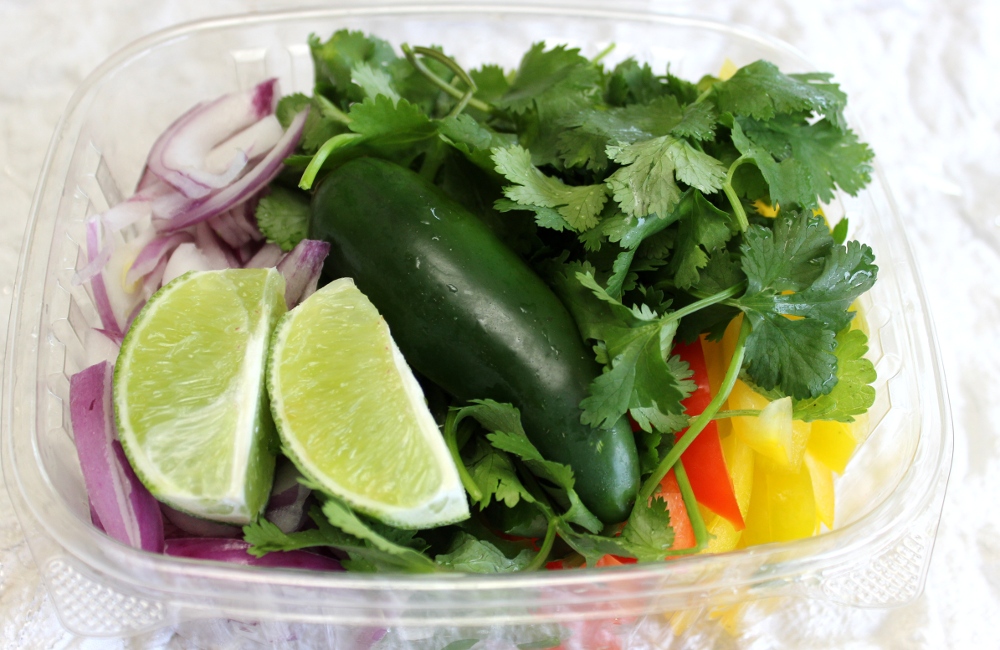 Quick story: One time, they were out of the Fajitas Mix. I asked Matt, from the produce department, if they had any "in the back" and guess what… They didn't, but they made one just for me. Amazing.
Take out everything but the onions and peppers, and arrange them on a plate. So pretty.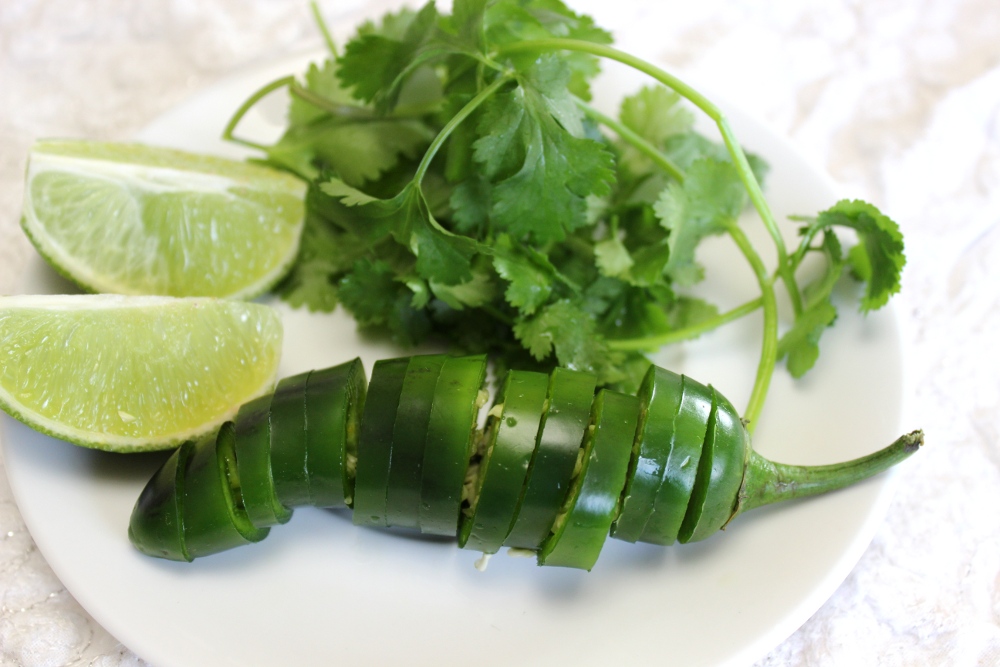 New Seasons Fajitas Bowl
Ingredients (serves 3)
– 1 BPA-free can of pinto beans (I use these)
– 2/3 cup dry quinoa, rinsed if needed (or use 1/3 c quinoa – this one is mine – and 1/3 cup white rice)
– 1 Fajitas Mix from New Seasons (produce department), or 1 red, orange, and green pepper each, sliced, 1 jalapeno, sliced, 1 red onion, sliced, a few sprigs of coriander, and a lime
– 1 fresh guacamole from New Seasons (produce department), or you can make your own
– Blue corn chips
– Salsa of choice (we like Emerald Valley, which is an Oregon based company, but pick your favorite!)
Directions
In a small saucepan, combine the grains (quinoa or quinoa + rice) with twice their amount of boiling water (so, 1 1/3 cup in this case). Add a pinch of salt, and cook, covered, for 15-20 minutes. I usually add a spoonful of pastured, organic ghee to the saucepan.
While it's cooking, saute the peppers and onions in your favorite oil. I use either pastured, organic ghee or organic coconut oil. Saute, stirring occasionally, for 15 minutes or so.
When the veggies are done, you'll have 5 minutes left on the quinoa. Transfer the veggies to a bowl, and set on the table. In the same saucepan, add the rinsed beans, about 1/3 cup water, and spices if desired (I usually add 1/4 t each cumin, onion powder, garlic powder, and 1/8 t chipotle powder). Simmer until most of the water has evaporated, about 5 minutes.
When the beans are done, the quinoa should be done too. Place everyone on the table, including the blue corn chips, guacamole, salsa, jalapeno, cilantro, and lime. For start to finish, this shouldn't take more than 30 minutes.
You can make bowls out of the various components, or wrap them into a burrito like Matthew does. You can add shredded cheese, shredded lettuce, your favorite seeds, sour cream… It's all good. And since you cooked the beans after the veggies, you don't need to scrub the pan. Rinse everything and place in the dishwasher. You're done.
Enjoy!