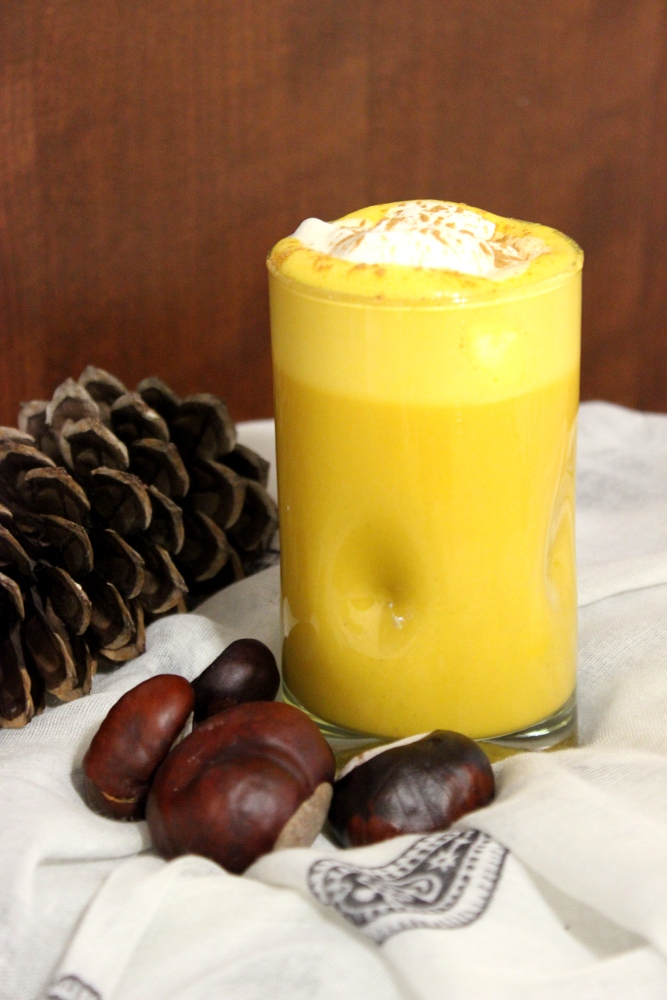 I posted this picture on Facebook last week, asking who wanted the recipe. You guys were enthusiastic about it, so here it is!
This shake gets its immunity boosting powers from the organic Immunity Blend Mushroom Powder from Essential Living Foods. Back when I was running an online raw food store, I ordered a lot from them. Their Brazil nuts were the best!
Onto the recipe. This shake has no pumpkin, but it does have Fall spices, like cinnamon, ginger, and cloves. It gets its orange color from… carrots! This adds beta carotene and vitamins, and absorption is facilitated thanks to the addition of healthy fats from coconut and cashews. You'll get the smoothest texture from straining the carrot juice if you're making it fresh with a slow juicer. A centrifuge juicer will be just fine, however.
Immunity No-Pumpkin Spike Shake

Ingredients
– 1/2 cup soaked cashews
– 1/2 cup water
– 2 T maple syrup
– 1 c. carrot juice
– 1/4 t ginger powder, 1/2 t cinnamon, 1/4 t clove, 1/8 t vanilla
– 1 T coconut oil, melted
– 1-2 t Immunity Mushroom Mix
– 1 t non-GM lecithin
Maple Cream: whip a small can of refrigerated coconut cream with a touch of maple syrup.
Directions
Blend everything but the cream, and top with the cream just before serving. Enjoy!