Am I the only mom who wakes up at 7 every day, even on the week-end? Probably not. I've learned to look at the bright side of things, and associate early mornings with luscious, filling breakfasts… Like these quick and easy pancakes with fragrant cinnamon apples and pears.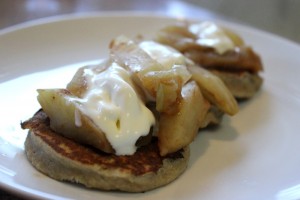 I like to have Franklin sit on a stool so he can help me break the eggs, spoon in the vanilla extract, and chop the bananas with a kid-friendly nice. It's fun! If I think he's hungry, I let him munch on some fruit while we're making the pancakes.
Gluten Free Paleo Pancakes
Ingredients (serves 2-3)
2 bananas
2 eggs
3 T coconut flour
1/2 t vanilla extract
Pinch sea salt
Coconut oil
1 apple, peeled and sliced
1 pear, peeled and sliced
1/2 t cinnamon
Pastured cream
Directions
In a small food processor (I use this one for all small recipes), blend the bananas, eggs, coconut flour, and vanilla extract. Let the batter rest 5, while you're stewing the apples, pears, and cinnamon in a pan with a tablespoon of water.
Melt a little coconut oil in a pan, and drop about 3 T of batter per pancake. When the edges are dry, flip them to cook the other side. Arrange the pancakes on a plate, top with some apples and pears, and add a drizzle of cream.