I'm obsessed with soup. They are so perfect for busy moms. They cook in one pot (we don't end up with a pile of dirty dishes), they are nourishing and filling, you can have all kinds of easy sides with them (sourdough bread, pastured butter, raw cheese, sauerkraut, etc.), and you can make lots and freeze leftovers, or eat them the next day. Soups are where it's at.
This is one of my favorite soups ever (and one of the recipes I created for the Nourished Village), a comforting blend of French lentils, tender gluten free pasta, and toothsome kale. Being vegetarians, I generally just use water in my soups, but you can use broth instead (from happy pastured animals).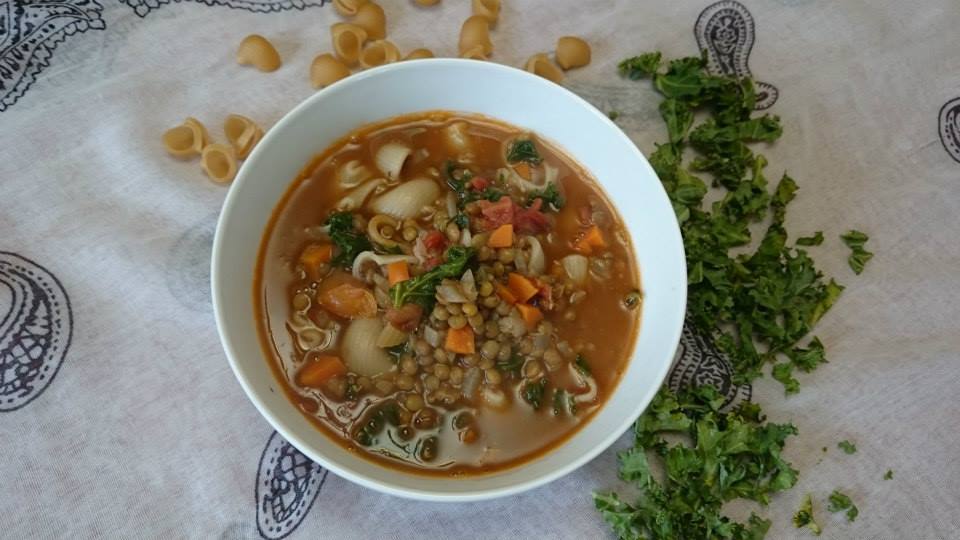 Ingredients
1 T of your favorite oil (I generally use pastured ghee these days)
1 1/2 cup French green lentils
1 small onion, diced
1 carrot, peeled and diced
2 medium celery stalks, diced
3 large garlic cloves, minced
1 can BPA free diced tomatoes (I like Muir Glen fired roasted tomatoes)
1 cup of your favorite gluten free pasta (I like shells like these ones)
4+ cups boiling water
Salt and pepper to taste
2 cups shredded kale
Instructions
In a large saucepan, heat up your oil of choice, and add the onions and carrots. Cook for 5 minutes, then add the celery and garlic. Cook for a minute or so, making sure the garlic doesn't burn.
Add the can of tomatoes, the lentils, and the hot water. Bring back to a boil with a pinch of salt.
Cook, covered, for about 30-40 minutes. You want the lentils to be pretty much done when you add the pasta. It's always better to have lentils that are a bit too soft when the pasta is done, than lentils that are still too firm. You'll have to cook them longer, and by then, the pasta will be too mushy.
Add the pasta, and cook for as long as the package recommends, usually 7-10 minutes. Add the kale at the end, and let the soup cool 10 minutes or so while you set the table and clean up the kitchen. Adjust for salt and pepper, and enjoy!
http://www.joannasteven.com/recipe-french-lentil-pasta-soup-vegan-gluten-free/