HEY mama! Are you, like countless other mothers out there…
♥ Done figuring out "what's for dinner?" every night,
♥ Done making food that your kids won't eat,
♥ Done going to the store way too often because something is always missing,
♥ Done feeling low on nutrition no matter how much you eat,
♥ Done worrying that your kids aren't eating well enough,
♥ Done having food be a source of stress rather than pleasure?
If you answered YES to some of the questions above, you're going to love this!
For the past year, classically trained chef Heather Pace and myself have been creating delicious recipes for the Nourished Village, my work of heart and nurturing online community for moms and their family.
Every year, more recipes are created, with no end in sight. We love food around here! But many of my followers were interested in just the recipes, without all the other Nourished Village goodies. You asked, and I was happy to oblige.
Introducing…
The Nourished Village eBook – a year of vegetarian, gluten free, soy free recipes your whole family will love! This isn't another plant-based detox eBook for people who eat twice a day and are happy with a cup of watery smoothie. Not at all! This is a power packed, nutritious, and super tasty collection of recipes featuring a full breakfast, lunch, dinner, and a snack.
Also!

I have included a

7 day menu planner

featuring the exact recipes we ate as a family.

I tell you what we ate

for breakfast, lunch, dinner, and snack.

I tell you what we did

on each particular day (grocery shopping, parent/child class, etc.) — you will get a

sneak peak into a week in my life

when my first son was about 2 years old. Fun!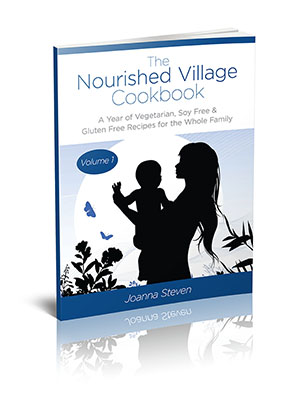 Want to take a peak inside? In this book, you will be getting recipes for…
Filling, sustaining breakfasts that taste fabulous, like:
Whole Food Protein Smoothie
Easy 3-ingredient pancakes
Gluten free veggie egg muffins
Berry Chia Pudding
Apple Cinnamon Quinoa Porridge
Peanut Butter & Banana Parfait
Veggie Frittata
… And 12 other breakfast recipes!
+ Delicious snacks & desserts that won't leave you with sugar highs and moody moods, including…
Sweet and Spicy Nuts
Grain Free Granola Bars
Gluten Free Double Chocolate Muffins
Avocado Chocolate Pudding
… And 5 other nourishing snacks!
+ Easy lunches, and filling and nutritious dinners that make fabulous leftovers, including…
Spinach & Feta Bowl with Quinoa
Chickpea & Kale Patties
Zucchini Pancakes
Bean Free Falafel
Eggplant Rollups
Quinoa Stuffed Peppers
Asian Inspired Broccoli & Rice Bowl with Kimchi
Black Bean & Sweet Potato Fries Bowl
Gluten Free Black Bean Burgers
+ 29 other main meals that won't have you grabbing for snacks an hour later!
This eBook busy moms everywhere need contains over 60 recipes that will bring relaxation and nourishment into your life.
How priceless is that?
Need more information before downloading the recipes? Here are the answers to questions you may have asked yourself.
Frequently Asked Questions
Is this another eBook I'm going to buy and never use?
Not at all! The holiday season is coming up, and I guarantee you will find recipes you'll want to make right away. I've poured my heart and soul into this eBook, and I confidently back it with a 100% money-back guarantee. If you're not satisfied, just contact me, and I'll refund your money.
My kids are picky! Can you help?
Most kids are picky. Even mine. They like something one week, then refuse to it eat! And, they have friends that are definitely picky too. But I've tested these recipes on them, and got thumbs up. The members of the Nourished Village tried several on their kids, with great results as well. I've also tested them on my Ben & Jerry's loving husband, and only the ones he loved made the cut! Your kids will love the gluten free chocolate muffins. You will love their protein punch and nourishing fats. They will love the chickpea patties. You'll love that they're made with chickpeas, kale, almonds, and other wholesome ingredients. They'll love the pancakes. You will love that they give them sustained, focused, energy (not scattered!). The list goes on…
I don't have time to make lunch! Or, I work out of the house and need lunches I can pack.
All the dinners were designed to make fabulous leftovers for the next day. I regularly pack them for my husband before he leaves for work or school, and eat them for lunch as well. You'll love them!
I don't have time to design menus from a bunch of recipes.
You don't have to! I've provided a 7 day menu that I used very often last year. You can use it as is or customize it to fit your needs. I've even included a shopping list. Your work is done!
Do you take Paypal? What if I don't use Paypal?
Yes, you can pay with Paypal. Otherwise, use the Credit Card link during check-out to use a credit card instead.
What others have to say about the Nourished VIllage cookbook
"Who takes time

on Saturday

for shopping and meal planning? I used to joke that I'm a Food Coach with an untidy pantry and no meal plan! Anyway, the fabulous Joanna Steven from The Nourished Village has written a wonderful plant based cook book with heaps of additional information about ingredients and a done for you meal planning. There's soups, salads, burgers, nourishment bowls and snacks all providing quick and easy nutrition. Try the Deep Purple Green Smoothie or the Choc Protein Shake for some liquid nourishment or as it's the weekend, give the Paleo Pancakes a whirl. Enjoy! "(Mitle Southe, Luscious Organic Cafe)
"Easy to follow recipe book, packed full of useful ingredient information, a personal touch and the most delicious healthy vegetarian and gluten free recipes I have come across! I can't wait to try them all. Thank you Joanna for helping me become inspired in the kitchen again" (Tracey Cabrera)
Ready to get your hands on over 60 delicious and nutritious recipes your family will love? Don't wait!

Normally $16.99, the eBook is
CURRENTLY available for $9.99