I'm a self-proclaimed chocoholic. When it comes to picking a dessert (because I never skip it), 9 times out of 10 I will pick something with chocolate in it. I've even been known to make my own chocolate bark at home! However, I'm also a self-proclaimed health nut. I like to feed my body well because of how it makes me feel both inside and out, but unfortunately just because I like to eat healthy doesn't mean I always crave healthy.
And I almost always crave something chocolate.
Which is why I made it my personal mission to create a rich chocolate dessert that could quench my chocolate craving but not do damage to my waist line. I knew I had to find something decadent, rich, and absolutely divine, and what better flavor combination is there than chocolate and peanut butter?
These rich chocolate brownies are made without flour, butter, oil, eggs or refined sugar, making them gluten-free as well as vegan with just a few adjustments. Now I know the doubters can't believe you can make an actual tasty brownie without butter or sugar, but this recipe is proof that you can! And not only are these brownies healthy, but you can also get away with licking the left over batter from the bowl without worries of salmonella poisoning. Oh the joys of baking without eggs!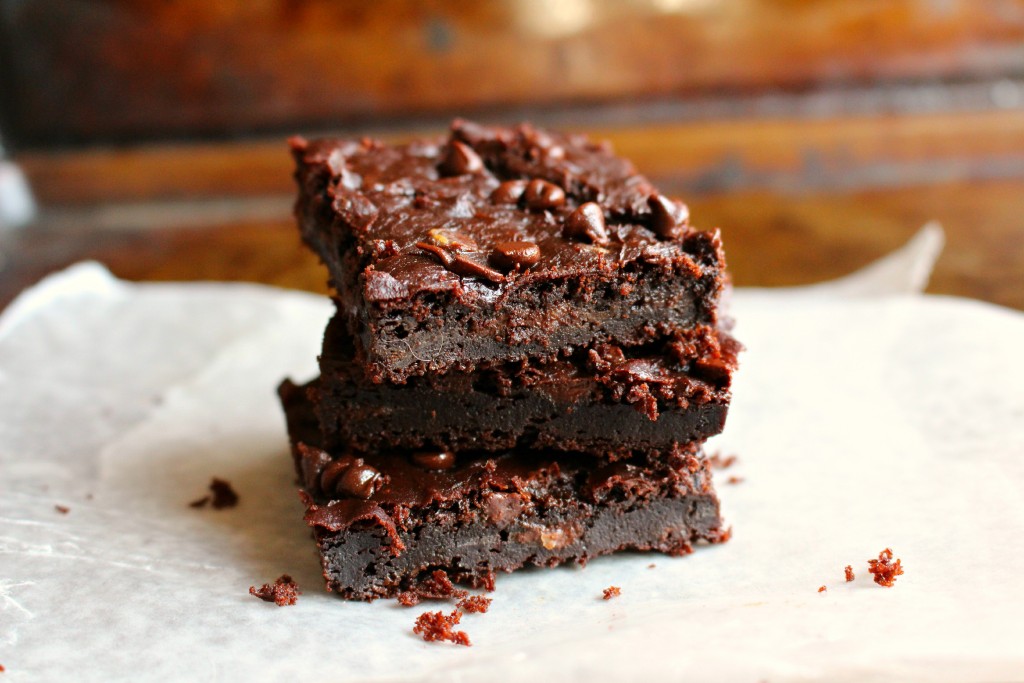 So for those of you who simply can't live without chocolate but are trying to make healthier choices, I hope that you will give this recipe a try! I promise that you won't feel deprived or unsatisfied with these brownies as you might feel with other "healthy" dessert substitutes. These brownies are the real deal! And with no butter, oil or refined sugar, go ahead and treat yourself to two….or even three.
Notes:
This batter will be fairly thick due to the peanut butter and Greek yogurt, but that's ok! Simply smooth the batter into your baking dish to make sure it is evenly distributed.
My brownies look thin because I used a 9×9 baking dish instead of an 8×8. I'm not sure how I grabbed the 9×9 instead of the 8×8, but your brownies will be thicker with a smaller pan!
To Make Brownies Vegan: For those of you who are looking for a 100% vegan brownie, simply replace the honey with maple syrup, swap the regular chocolate chips for a dairy free brand and the Greek yogurt for plain applesauce!
Peanut Butter Chocolate Brownies by Jenny Travens (Gluten, Egg, & Dairy Free)
Ingredients
1/2 cup all natural peanut butter
1/2 cup plain Greek yogurt
1/4 cup raw honey
1 teaspoon vanilla extract
1/2 cup unsweetened cocoa powder
1/2 teaspoon baking soda
1/4 teaspoon sea salt
1/4 cup almond milk
1/4 cup mini chocolate chips
Instructions
Preheat oven to 350 degrees. Spray an 8x8 glass dish with cooking spray. In a large bowl, mix together the peanut butter, honey, vanilla extract and Greek yogurt. Once smooth, add in the cocoa powder, baking soda, almond milk and salt. Mix until everything is well incorporated. Gently fold in the chocolate chips.
Scoop batter into baking dish. Smooth batter evenly into pan. Sprinkle more mini chocolate chips on top if desired. Bake at 350 degrees for 25 to 30 minutes. Brownies will look a bit undone, but that's ok! That's what makes them so fudgy.
http://www.joannasteven.com/recipe-peanut-butter-chocolate-brownies-by-jenny-travens-of-superfood-living-gluten-free-egg-free-dairy-free-refined-sugar-free/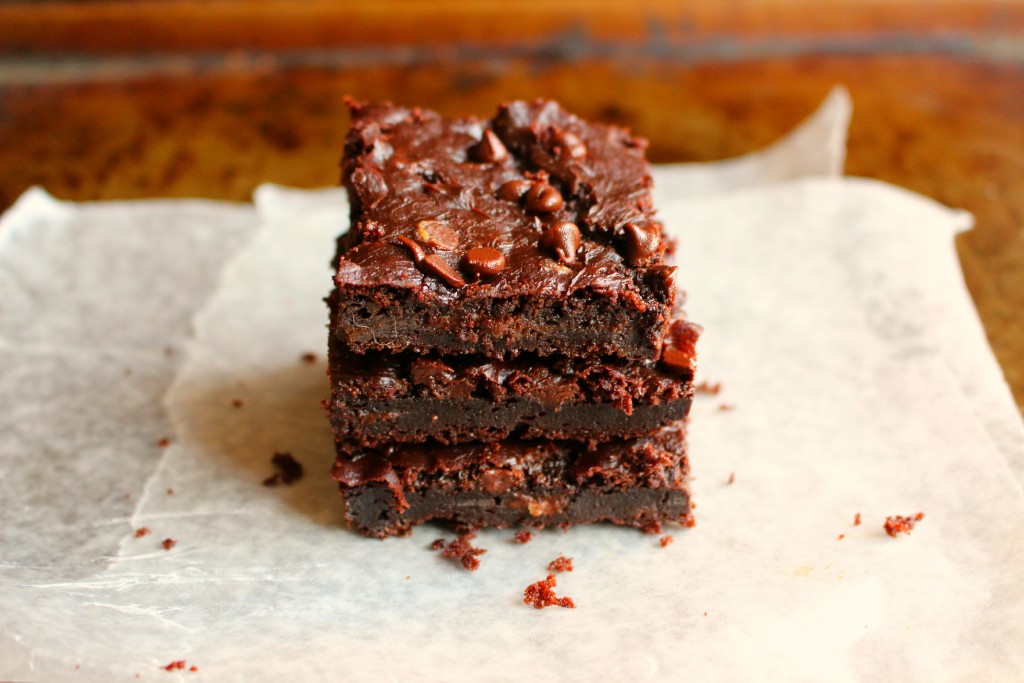 Jenny Travens is a chief editor, wellness coach, and fitness blogger for SuperfoodLiving.com. She loves to share her knowledge about the different ways of staying fit and healthy and helps people to conquer over health related issues and maintain their fitness regime.
With over 10 years of experience, Jenny is uniquely qualified, and understands each individual's goals, and needs. She can simply provide important nutritional information or even give you a more detailed, supportive, skills-based approach to changing your diet and eating habits.