Today's story is from my friend Magdalena Maslowska, a very strong mama who battled cancer for nearly 10 years. She passed away last year, and I can't begin to imagine how her family felt. We will always remember Magda as the strong, loving woman who always had a kind word and a smile for everyone, even when she was going through very difficult times herself.
Breastfeeding While Battling Cancer – by Magdalena Maslowska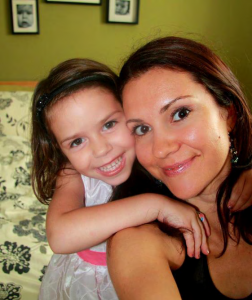 I faced a very challenging issue while breastfeeding: at 6 weeks post birth, I had to have another cancer surgery. It was a very emotional time. I knew I wanted to breast feed my daughter for at least a year, and I also knew I could not postpone the surgery for that long. We wanted to avoid cancer metastasis.
I was told by numerous people to just forget about breastfeeding and put the baby on formula. "Formula is good, she'll be fine!" I was told I had to think about myself first in order to be healthy for her. Yes, this was true, but I knew I could also get strong and healthy, and figure out how I can keep breastfeeding. There was just no other option! I knew I had to "fight the brave battle" and my baby was going to be my partner.
I had an abundant milk supply, loved breastfeeding, and had such an easy going baby. Not to mention that breastmilk is just simply the best!! So, against all medical/family advice, I decided to do the surgery with just minimum local anesthetic and take no antibiotics/ pain medicine afterwards. I wanted to be able to breastfeed my precious baby right the next day.
It was honestly the most challenging experience I've had to face. Even giving birth was a total walk in the park by comparison. I was in so much pain and so much discomfort. All kinds of worries filled my heart. Will I lose my milk supply due to all this trauma? Will I develop infections since I refused to take antibiotics? I could not eat much or sleep due to my pain, but, I knew I had to get better fast for my baby. Seeing the happiness on my Amelia's
face when I put her to my breast and being reconnected with her after a two-day break was the most rewarding and beautiful experience ever! It still brings me to tears five years later 🙂
I found most support in my loving husband, family and close friends, who helped me get better fast in order to continue my breastfeeding mission. I had the most amazing experience during the first year of my daughter's life. The look on her face, the love and happiness in her eyes when she latched on… No words can describe that feeling. She is five years old today and unlike other kids, she rarely gets sick. I know that my perseverance
gave my baby the best nutrition and support she needed during this most crucial first year. It also motivated me to get better fast, and proved that everything we truly and wholeheartedly want is within our reach.
For more stories from mamas who overcame obstacles in their breastfeeding journey, check out the complete list of posts.