Modern diets are often deficient in omega 3 fatty acids, that's a fact. And yet, our brain needs them to function optimally. Did you know that simple omega 3 supplementation can reverse mild depression and anxiety? And did you know that fish consumption does not necessarily guarantee proper intake of omega 3 fatty acids?
I supplement every day, and I would recommend that every woman of childbearing age supplement as well. My favorite omega 3 supplement is O-mega-zen 3 and O-Mega-Zen³ + EPA, but there are also fabulous food sources of this amazing nutrient you can enjoy on a daily basis. Like chia seeds!
Back when I was analyzing raw vegan diets on a regular basis, I noticed that calcium was a fairly hard mineral to get in adequate amounts. Now, I know that with dairy based diets, you actually assimilate less calcium than the label says for many reasons, but the amount of excreted calcium is nowhere near the amount of calcium the average raw foodists might be missing. Enter chia seeds…
Chia seeds are such a great source of calcium that I really think people should be eating more of them on a regular basis, and the fact that they are as high as flax seeds in Omega-3 fatty acids makes them even more wonderful. When I was running an online raw food store, chia seeds were one of our top sellers!
Since I eat chia seeds almost every day, I regularly come up with new and exciting recipes and thought you might enjoy trying them. As always, these recipes are husband-tested and approved! I'll be sharing several this week to remind you to eat more of these amazing little seeds, and also to remind you to enter my new giveaway below, sponsored by www.ChiaSeedsDirect.com!
Chia Coconut Berry Parfait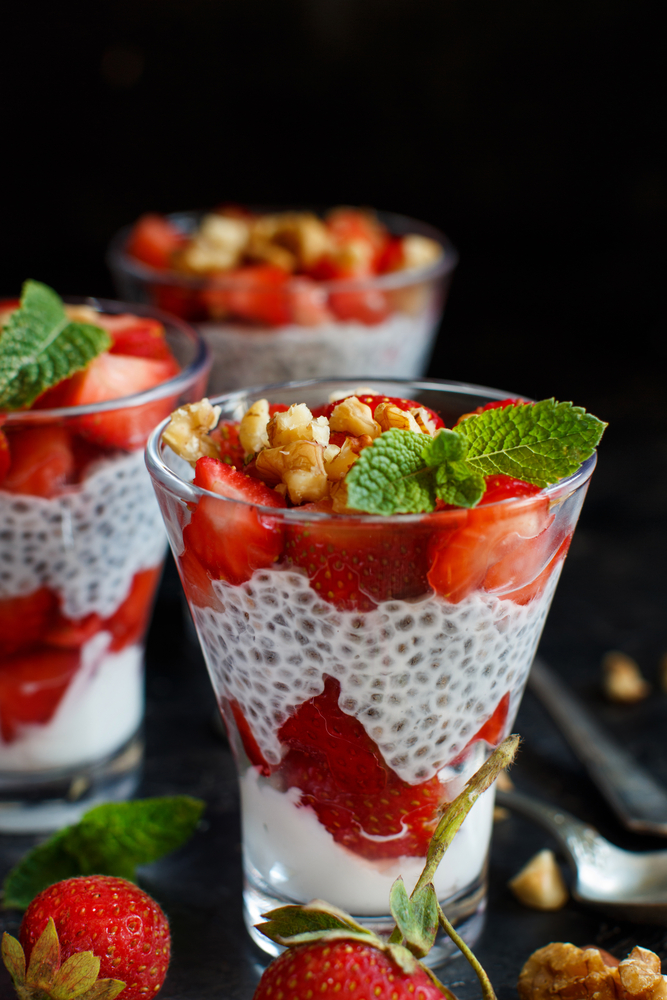 Ingredients

1/3 cup young coconut yogurt*
1/4 cup chia gel**
1 T coconut nectar, or honey
1 cup berries – use a mix of fresh and thawed for soft berries with natural juices – I used 1/2 cup thawed strawberries, 1/4 cup thawed cherries, and 1/4 cup fresh blueberries

Directions

In a small bowl, blend the coconut yogurt and chia gel with a fork.
In a pretty glass, like a wine glass, layer the berries and chia-coconut yogurt.
Serve anytime!

* How to make coconut kefir? Blend 1 lb young coconut meat (available frozen in many health food stores) with 1 packet of Body Ecology kefir starter (from the BodyEcology.com website). Add just enough water to blend, between 1/2 a cup and 1 cup, depending on your blender. You want it thick. Set in a covered bowl and let it ferment overnight. You're done.

** How to make chia gel? With a fork, stir 1/4 cup chia seeds with 1 cup water. Keep stirring for a minute or so, until fully gelled. Done!
Need more recipes? www.ChiaSeedsDirect.com has a free booklet for you, with information on the benefits of chia seeds, and chia seeds recipes. Click HERE to download. And, you can enter the giveaway below to win 2 lbs of chia seeds! Only US and Canada residents please.