In order to spend a little time with my family who's visiting from overseas, I'll be featuring a few guest blog posts in the coming weeks. Today, I'm happy to share a recipe from the owner and head chef of Loveletter Cakeshop in New York City! They make each of their cakes from scratch using only the highest quality ingredients – their eggs are all organic and Certified Humane®, and all of their jams, curds, mousses, and buttercreams are made in-house.
I can't even tell you how great it is to have quality gluten free products out there. I have very little time to bake anymore, so I'm always happy to have access to sweet treats that don't make me sick. That being said, I'll be trying this recipe this week (especially for my husband, who isn't the biggest fan of coconut flour). If you do too, share a photo on my Facebook page!
"Finding the right gluten free cake recipe can be tricky, because the binding power of gluten is one of the key factors that holds a cake together. If you're looking for a GF cake recipe that can be stacked and withstand a good deal of abuse, this is it. We use this recipe for stacking wedding cakes with absolutely no issues. At Loveletter Cakeshop, we prefer using Pamela's Artisan Gluten Free Flour Blend for its neutral, pleasing flavor and its textural similarities to wheat flour. Best of all, it can replace wheat flour 1:1 in most conventional recipes.This is by far our most popular gluten free cake flavor because of its richness, its depth of flavor, and because it's just downright sinful. You won't miss wheat one bit. Enjoy!"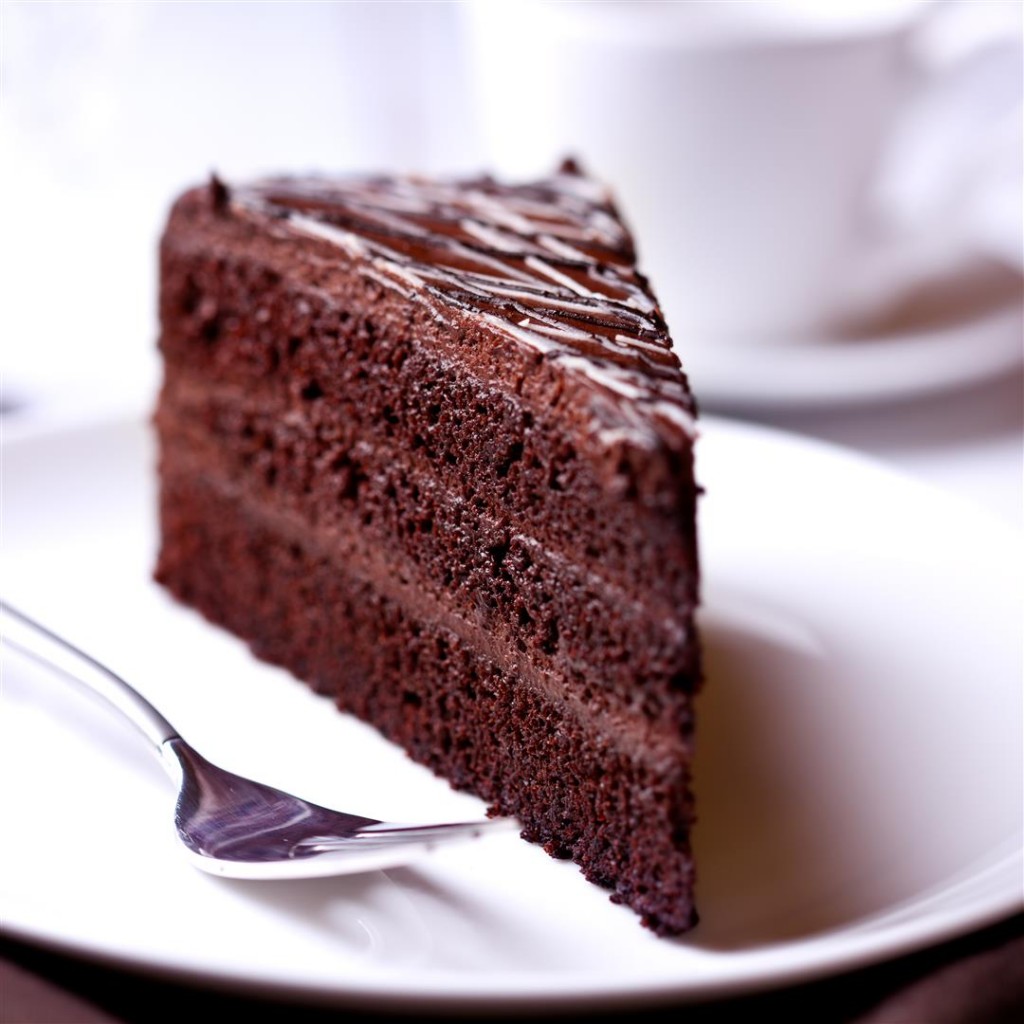 Ingredients
For the cake:

2 1/4 cups gluten free flour (they recommend Pamela's)
2 1/4 cups sucanat or coconut sugar
2 cups cocoa powder
1 teaspoon salt
2 1/4 teaspoon baking soda
1 teaspoon aluminum-free baking powder
1 cup buttermilk
1 1/8 cups water
1/3 cup coconut oil, butter, or ghee
1 1/2 teaspoon pure vanilla extract
3 eggs
Instructions
For the cake:

Preheat oven to 350 degrees. Prepare two 8" round 2" deep baking pans.
Sift dry ingredients and set aside.
Measure wet ingredients (except the eggs) into a mixing bowl.
Mix on low and add dry ingredients slowly.
After dry ingredients are thoroughly combined, add the eggs one at a time.
Mix until fully combined and your batter is smooth.
Divide batter between pans and bake for approximately 40-45 minutes.
Remove pans from the oven. Turn onto wire racks after pans are cool to the touch.
For the ganache:

Melt chocolate (we prefer the double boiler method) until smooth and free of lumps.
Mix heavy cream and sugar. Heat over a stove until smoking but not quite boiling.
Pour chocolate into the heavy cream and stir until fully combined.
Let settle for at least 1 hour or until firm.
https://www.joannasteven.com/guest-recipe-deep-dark-chocolate-cake-recipe-gluten-free/