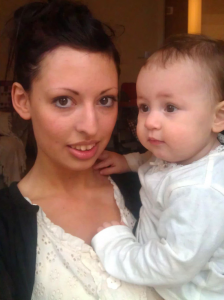 I fell pregnant at 19, after trying for a baby for a year. Everyone was extremely shocked to hear how keen I was to breast feed. I have been surrounded by breastfeeding all my life, with 3 younger brothers, a nephew, and a godson who were all breastfed. It was just second nature to me.
And after a tough pregnancy with stress, homelessness and many nights in the hospital with threatened premature labour, I was looking forward to the easy part, giving birth and breastfeeding. Out of all my friends and family, everybody made it look very easy. I didn't actually know there were obstacles to be had with breastfeeding.
My daughter was born on December 23rd, 4 weeks early at 5 lb 2 oz, during the worst winter our town had seen for years. My partner nearly didn't make it to the hospital! She was healthy, but tiny and very sleepy. I told the nurses I wanted her on my chest the second she came out, and she lay there for 2 hours before a midwife came in to show me what to do.
The ward was extremely busy and I didn't get much help. I had no idea what I was doing and when a midwife finally came in, my daughter was too tired to feed off me. We were wheeled away to bed, and because I was exhausted and drowsy from the drugs I had to take postpartum, I feel asleep right away.
I woke up in the middle of the night, and my baby was gone. The nurses had taken her away to feed her a bottle. I was furious! In the morning, I called my friend, a lactation consultant, and she came in straight away (bear in mind that it was Christmas Eve!) She told me my baby wasn't taking to the breast because she was so sleepy and small, and to just keep expressing and feed from a cup to help her mouth muscles develop. Finally, after 5 nights in the hospital, we came home but my little one still wouldn't feed from me. I even lied to the midwife, and said got the hang of feeding because I was ashamed I was doing something wrong.
The first week at home I got cracked nipples and thrush, and was in toe-curling agony when I tried to feed. But by this point, my daughter was getting the hang of it. The latch was still wrong, but thankfully we moved to a new house two weeks later and I was introduced to my new health visitor, who, to my amazement, was also a breastfeeding counselor. She helped me a lot with positioning, and it eased the pain slightly. I did keep on getting thrush every other week and mastitis at least once every 8 weeks.
I was in agony and many people were asking me why I didn't switch to formula feeding. NO WAY! I was determined, and no pain could stop me from providing my baby with the best food, medicine and comfort I could give her. Although I was in such pain and dreading every feed, I was still enjoying 'booby cuddles' with my little one. It took about 6 months, but she finally got the hang of it and so did I. We were finally feeding pain free!! And I couldn't have been happier.
I still got thrush every now and then, but I could not be prouder of myself. A 19-year-old girl surrounded by pressures to bottle feed and with every breastfeeding pain going, I still persevered, and had no intention of stopping any time soon. I then went on to train as a breastfeeding counselor!
For more stories from mamas who overcame obstacles in their breastfeeding journey, check out the complete list of posts.