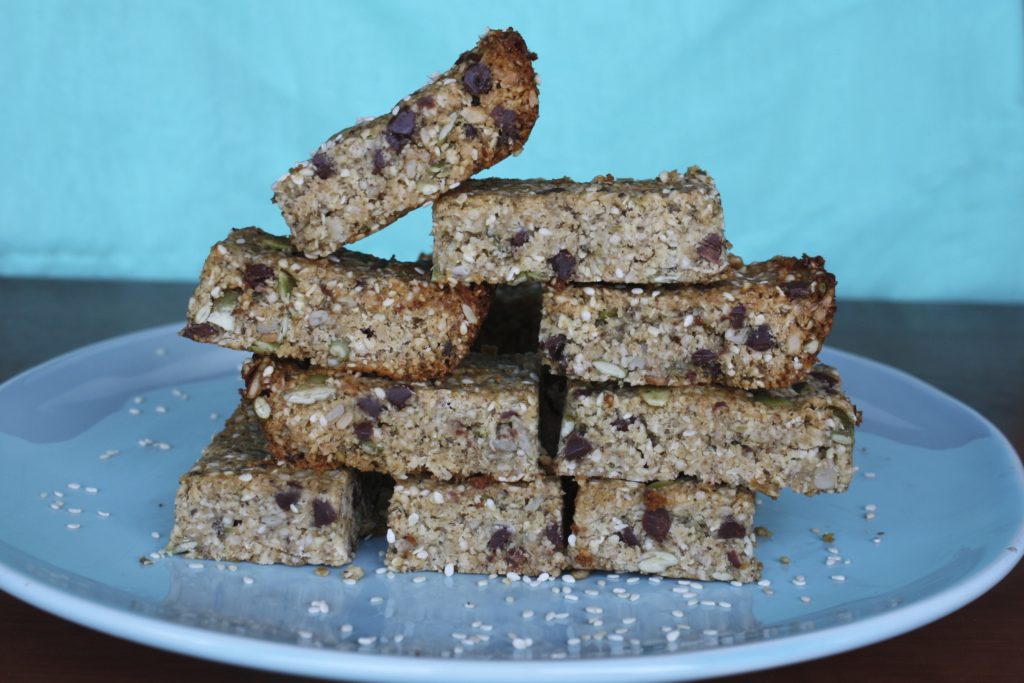 Back when I was writing the Nourished Village Cookbook, volume 1, I hired Heather Pace of SweetlyRaw.com to create recipes for the community. Here's one of her contributions: "This is a completely grain free granola bar recipe that I really love. They store well in the freezer so I recommend making a double batch to keep some on hand at all times."
Ingredients
1/3 cup maple syrup, honey, or agave
1/4 cup almond butter or peanut butter
1/4 cup melted coconut oil
3/4 cup blanched almond flour
3/4 cup shredded coconut
1/3 cup pumpkin seeds
1/3 cup sunflower seeds
1/3 cup mini chocolate chips
1/4 cup hemp seeds
3 tablespoons sesame seeds
2 tablespoons chia seed, ground in a coffee grinder
Directions
Preheat an oven to 350F.
In a bowl whisk together the maple syrup, nut butter, and coconut oil (all ingredients need to be at least room temperature). Combine all dry ingredients together in a bowl. Add the dry to the wet ingredients and stir well to combine.
Grease an 8×8" pan with coconut oil. Press the mixture into the pan. Bake for 20 – 24 minutes or until golden on the top. Cool and then chill in the fridge for at least 4 hours before slicing.