This Valentine's Day, treat
yourself to a fruit that was once reserved for royalty: the delicious, berry flavored blood orange. This cheesecake is suitable for paleo diets, raw diets, gluten free diets, dairy free diets, and more. Which means that everyone can eat it! Except people who eat low fat, but they have other things to worry about than not getting cheesecake for Valentine's Day.
My household consists of one husband, one preschooler, one baby, and myself. Not enough to devour an entire cheesecake, as awesome as it is, so I invited friends over. Shannon was interested, but she doesn't celebrate V-day. Instead, she chooses to celebrate important single historical figures and the accomplishments they have made due to their single status. Of course, I immediately thought of Ralph Nader, who understood you can't really change the world and be a good family man. Whenever my husband takes on too much, I remind him he's not Ralph Nader. And I feed him cheesecake before he has time to grumble.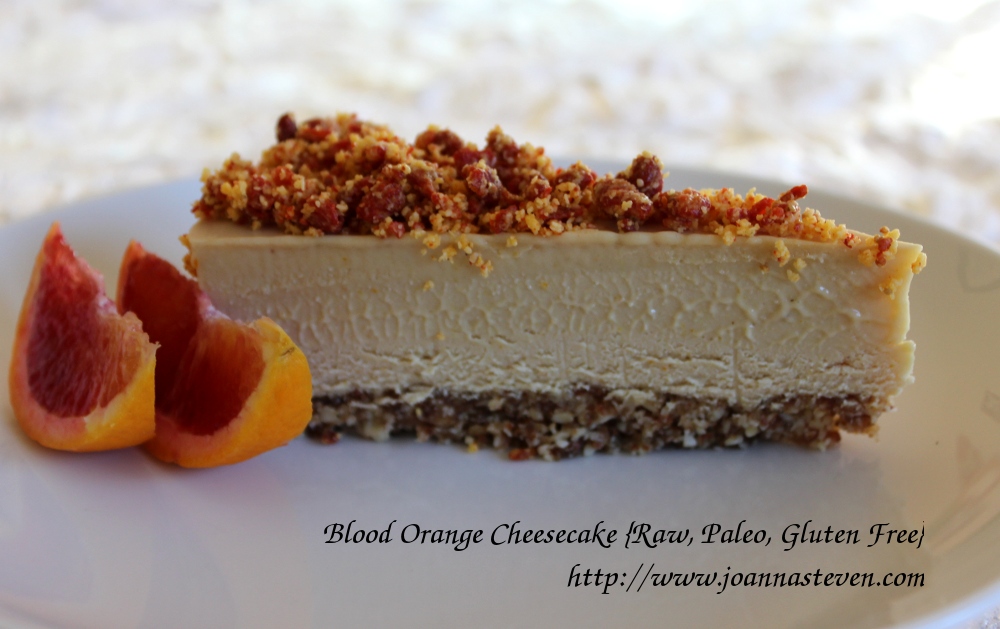 Valentine's Day Blood Orange Cheesecake
Crust
– 1 1/2 cup almondss
– 8 medjool dates (about 1/2 a cup)
– 1/4 cup shredded coconut
– 1/4 t vanilla
– 1/2 t orange zest
– Drizzle maple syrup to help bind the crust, if needed
Filling
– 2 cups Navitas Naturals raw cashews
– 1 cup young coconut meat (I get mine frozen and ready to go from Exotic Superfoods. Don't freak out at the price. It's ridiculous online. I get mine at a Whole Foods type store and it costs $11 for 2 1/2 cups, which is a great deal compared to getting fresh ones and hacking into them! )
– 1 cup blood orange juice (recruit your kids to juice them!)
– 1 cup grade B maple syrup
– 1/2 t organic orange extract

– 1/2 T organic vanilla extract
– 1/8 t turmeric powder
– 3/4 cup melted Navitas Naturals cacao butter (about 2 cups finely chopped)
– 1 T loosely packed blood orange zest
Topping
– 1/2 cup Navitas Naturals goji berries
– 2/3 cup organic shredded coconut
Directions
– In a food processor, grind all the crust ingredients together until they barely start to stick together. Press with your fingers. If it sticks, it's good to go. Otherwise, blend a little longer. If the crust looks good but doesn't stick as much as you'd like, drizzle in some maple syrup.
– In a high speed blender (my fave is this one), blend up all the ingredients except the cacao butter. Add it at the end when it's all smooth.
– In a 9 inch springform pan (I actually used this heart shapes pan which I lined with parchment paper), press the crust to cover the bottom evenly. Pour in the filling. Tap the pan gently to remove air bubbles. Freeze overnight, then thaw in the fridge for about 6 hours.
– Before serving, grind the gojis and coconut in a food processor until the coconut looks orange and the gojis are broken down but you still have big pieces. Sprinkle over each slice before serving. Enjoy!