Sometimes, you are blessed with great people in your life (pretty often, actually, if you take the time to notice). Many years ago, when I was in anguish over feeding myself and my future baby all organic and started a food buying group to get lower prices, a few people got on board with me and helped make this dream a reality. One of them was Glenda – seeing how overwhelmed I was after the birth of Franklin, she took it upon herself to handle the produce deliveries, and even bring my share of the food to my doorstep.
How amazing is that? I was so grateful! One time, she also brought me a bunch of cucumbers from her garden. I love cucumbers because they are easy to juice, and Franklin enjoys them too. Thank you Glenda!
Along with juices, I like to use cucumbers to make lemonade. These two recipes are always very well received during hot summer days; one calls for a blender, and the other one calls for a juicer. They are so refreshing when all you want to die is lie down and soak up the sunshine. I like mine on that tart side, so add a few more drops of stevia or a squirt of your favorite liquid sweetener to the pitcher.
Cucumber Lemonade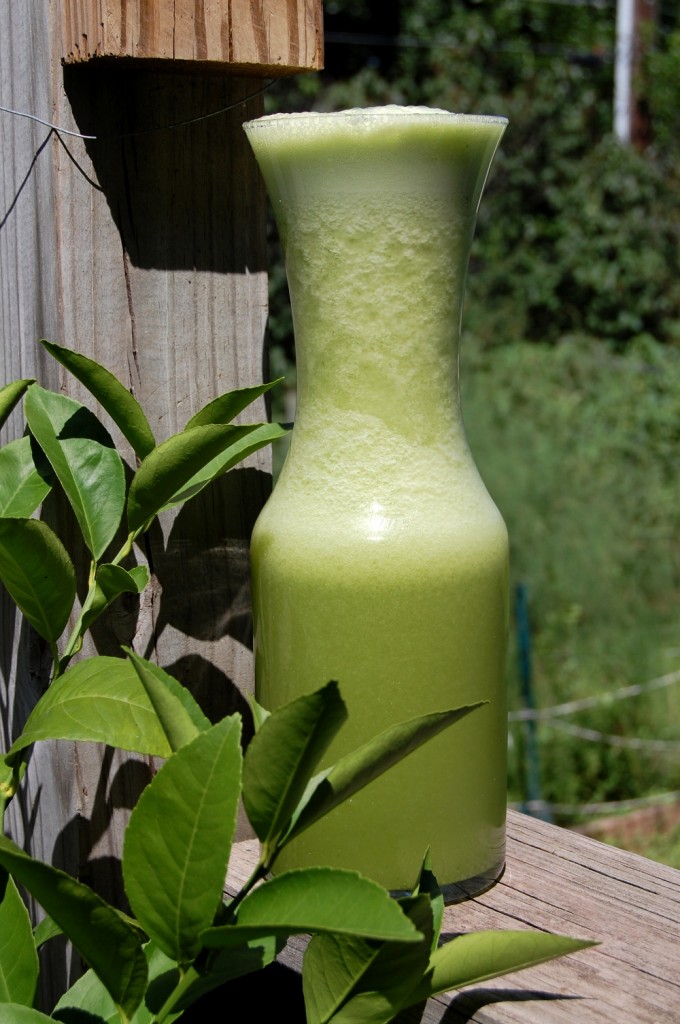 Ingredients
4 cups cucumber chunks
2 cups water
1/2 cup lemon juice
2 cups ice
1/2 cup your favorite liquid sweetener – I used agave nectar, or 40 drops stevia
Directions
Blend and strain. Serve 3.
Cucumber-Apple Lemonade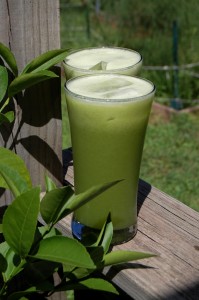 Ingredients
750 ml cucumber juice
250 ml green apple juice
1/2 cup lemon juice
20 drops stevia, plus more to taste
2 cups ice
Directions
Blend and strain. Serve 3.
Do you enjoy smoothies, nut milk shakes, and other raw vegan drinks, but find yourself making the same recipes over and over again? Put an end to the monotony with my book Smooth! Bubble Teas and Irresistible Drinks for the Smoothie Connoisseur! With green smoothies, water kefirs, raw vegan bubble teas, nut milk shakes, protein shakes, Irish moss drinks, and more, you will find hundreds of new ways to bring excitement to your healthy, nourishing drinks. Click here to find out more.