"Mom, can I have some scones?"
"No, we're having dinner soon"
"Pleeeeaase, can I have some?"
My son Franklin is not even 4 yet, but he eats scones like a champion. Actually, he eats anything like a champion — and gluten free baked goods are no exception! And since he loves blueberries and lemon, I figured I'd make him a nice treat, which would also keep him busy in the morning while I get dressed and all that. If you're the mom of a small child, you know how nice it is to have a few minutes in the morning to yourself!
Well, Franklin ate 2 scones, my husband nibbled another one, and next thing you know, I had one scone left to take a photo of. And no more lemons or blueberries as props. But since my Facebook followers enthusiastically asked for the recipe, I couldn't exactly forgo sharing it just because I didn't have a nice picture!
So, here's the much requested recipe. A super fast, all gluten free lemon blueberry scone. Someone asked if they could add a flax "egg" instead of a regular egg, and I bet you can. I haven't tried, though.
Lemon Blueberry Scones (Gluten Free, Paleo)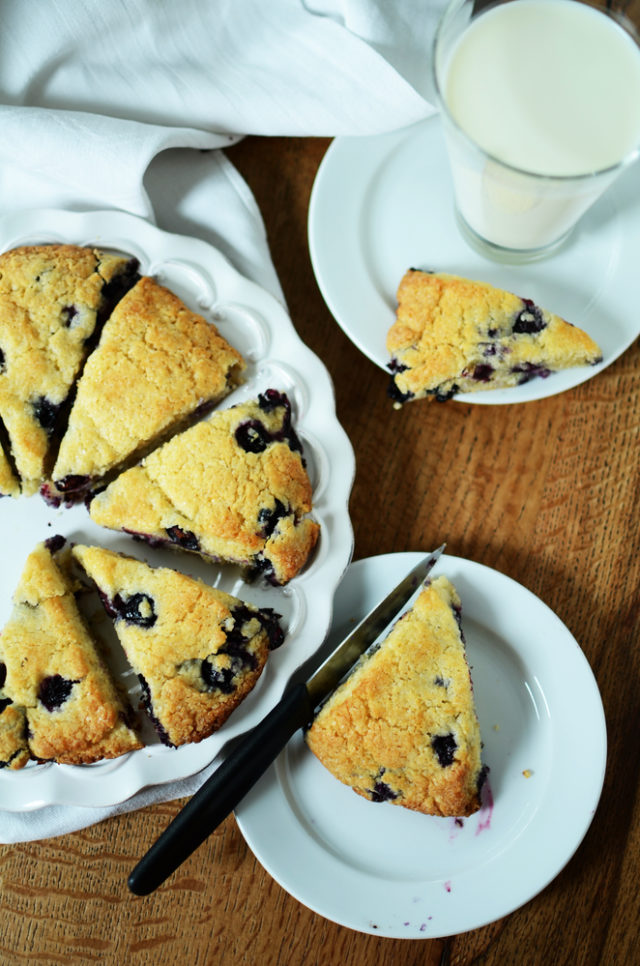 Dry ingredients
2 cups almond flour (I used this one
)
1/2 t baking soda
1/2 t aluminum free baking powder

1/4 t sea salt
3 T super cold butter (or place coconut oil in the fridge and use that for a dairy free scone), cubed
Wet ingredients
1 egg
1 T honey (or your favorite liquid sweetener)
1/2 t vanilla extract
1/2 t lemon extract
, or zest of one lemon
2 T fresh lemon juice, about 1/2 a large lemon
1/2 cup fresh blueberries
Directions
Preheat the oven to 350 degrees.
In a food processor, add the dry ingredients minus the butter. Pulse until combined.
Add the butter, and pulse slightly. You want big chunks to remain.
Mix the wet ingredients together minus the blueberries. Add to the dry ingredients, still holding your horses on the blueberries and pulse a few times until combined. Now add the blueberries and pulse a few times to incorporate them.
On a pan covered with parchment paper, dump the scones dough. Rub a little coconut oil on your hands. It will make forming the scones easier as the dough will be wet. Gently pat the dough to form a circle, about the diameter of your hand. Cut the dough into 6 equal portions. Separate them gently, and pop the pan in the oven. Bake for 20 to 30 minutes. I use a convection oven, so it only takes 20 minutes.
While the scones are baking, put all the ingredients away and rinse the food processor. Enjoy warm scones with a cup of tea in your clean kitchen!