I love trying new products, especially when they are very potent and nutritious without being too expensive. Shaman Shack, a company started by Dean "Rehmannia" Thomas in 2006 when he completed his personal apprentice with Ron Teeguarden (of Dragon Herbs), makes such groundbreaking products. Rehmannia creates them all, and  and sources only the highest quality herbs.
One of his creations, Morning Jing, is one of my favorite energizing, nourishing powders.  I was first introduced to it by Shawna F., a high raw foodist who lives in Alaska. Her whole family uses it, and her pre-teen son loves it and finds it very energizing. Here is what she told me about it:
"Another product he has which is fascinating is the Morning Jing. It is a
protein "powder" made of black beans, black rice, black sesame, maca and he-sho wu. I didn't think much of it as the ingredients (the beans and rice) sounded so ordinary, but it was suprising. We made it with almond milk and strawberries per his recommendation and I cannot explain how fabulous it made us feel! Gabriel went wild for it. When we ran out he kept asking us to order more because it made him so "generized." 🙂 (That's how he said energized then). I can't explain why it worked so well, but it was far better than any other protein powder type product we've ever used. It's funny too because of the rice and beans which we generally don't eat!"
According to Dean Thomas:
"Morning Jing is a fantastic tasting, super nutritious blend of powdered superfoods and herbs designed to get your day started with deep invigoration while replenishing the kidneys – 'Jing'. Black foods are thought by the Chinese to tonify the Kidney meridian, thereby helping restore youth and deep resilience. Black bean, black rice and black sesame provide a complete amino acid profile with important omega oils for body flexibility, cellular respiration and neuro-support. Then we add in a generous amount of maca (gelatinized) and some Ho Sho Wu, the famed longevity herb from China- called 'old black hair', as it is said to restore pigment (it has for me!). We also add a bit of bee pollen and powdered agave. Morning Jing is a super-tasty and unique nutritional product, sure to change the landscape of protein powders."
I contacted Rehmannia to find out more about the product. Check out his interview! If you have any additional questions, be sure to let him know. He is very helpful and very knowledgeable.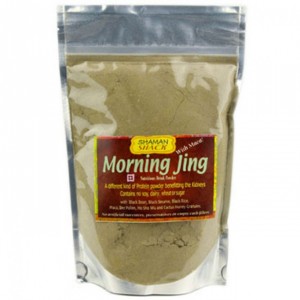 Joanna Steven: Morning Jing is a very unique product for health conscious individuals; can you tell us more about it and its ingredients?
Dean "Rehmannia" Thomas: Morning Jing is marketed as a "protein powder", but is far more than that. In actuality, we should market it as a youth and rejuvenation product, as the black foods in is comprised of are said by the Chinese to fortify and replenish the kidney meridian, which is where our potential for maintaining youthfulness is concentrated. Americans are losing this "essence" and rapid aging is occuring in many individuals we can observe around us.
The Taoist masters call this essence "Jing", I write about it extensively in my book Healing Thresholds. The black bean, black rice and black sesame, as well as the herb Ho Sho Wu are all "black foods" and go to the kidney meridian. I also believe the shilajit and reishi in the Super Morning Jing are kidney foods. Bee Pollen is definitely a Jing food too, as well as Maca, heck – they're all kidney Jing ingredients!
[Joanna notes: I asked Kate Magic if she took He Sho Wu when she was breastfeeding, and she said that she had not because she didn't know about it then, but had she known about it, she would have taken it for sure. I also know that my friend Courtney, a fellow ecstatic mama, adds it to her drinks and she breastfed her son Cedar for over 4 years.]
The special processing of these ingredients increases their digestibility and reduces potential for flatulence. The protein profile is balanced and wholesome as well. The carbohydrates as starches and fats are very beneficial for broad-spectrum health. The starches in particular have been "gelatinized" to make them more digestible. This is important, as I don't believe raw maca is good to take. the Incas never took it raw – always roasted. We should follow the wisdom of the ancients.
Joanna Steven: My friend Shawna uses it often, and her husband and son love it. I personally used it regularly when I was breastfeeding. In your opinion, who would benefit the most from taking Morning Jing, and are there people who should probably avoid it?
Dean "Rehmannia" Thomas: Morning Jing is very beneficial in the raw foodist's diet, as the proteins and starches are rendered into a bio-available state. I believe Morning Jing is good for all people, any time.
Joanna Steven: I have added Morning Jing to many smoothies and shakes, and it always adds a delicious dimension of flavor. Can you share your favorite recipe using Morning Jing with us?
Dean "Rehmannia" Thomas: I like it best straight up in almond milk, but my second fave is simply with strawberries. I do also crazy drinks with persimmon and cacao and berry mixes. Try a little Morning Jing in rice milk blended with an avocado and cacao and honey. Makes a pudding-y drink!
Joanna Steven: Thank you Rehmannia for this interview. Now it's my turn to share some of my favorite Morning Jing recipes!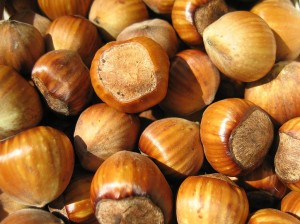 Hazelnut Mocha Shake
Morning Jing adds a delicious coffee-like flavor to shakes, and helps balance the kidneys thanks to its black rice, black beans and black sesame. And hazelnut and cacao are always a great match! This recipe is included in my book The Milky Way – The Ultimate Guide to Breastfeeding on the Raw Food Diet
.

Ingredients
2 frozen bananas
1 T Raw Cacao Powder

1 t http://www.amazon.com/Navitas-Naturals-Organic-Cacao-Pouches/dp/B001ELL9GI/ref=sr_1_2?ie=UTF8&qid=1401068630&sr=8-2&keywords=cacao+nibs
1 T Morning Jing
3 dates, pitted
2 cups hazelnut milk
Directions
Blend and serve.
Morning Jing Creamy Coconut Shake
A thick and creamy shake that's perfect for breakfast or as an afternoon pick me up. This recipe is included in my book The Milky Way – The Ultimate Guide to Breastfeeding on the Raw Food Diet
.

Ingredients
1 ½ cup coconut water
2 T almond butter, preferably sprouted

1 T raw honey
1 T Morning Jing
2 frozen bananas
Directions
Blend and serve.