I shared this recipe a few years ago on Facebook, and it nearly instantly got 155 shares. I can totally see why – this is one of the best cheesecake recipes ever, raw or not, vegan or not, Paleo or not, etc.
I actually made it last year as my birthday cake, since my birthday's in June and raspberries are plentiful. It's delightfully creamy with a little bite from the raspberries and cacao nibs in the crust.
Alright! Now get yourself some raspberries and cacao butter, and make this quick and easy recipe. And let's all say thank you to Sweet Gratitude for allowing me to share this recipe!
White Chocolate-Raspberry Cheesecake (Raw, Vegan, Gluten Free, Paleo)
~ Reprinted with permission from Cafe Gratitude.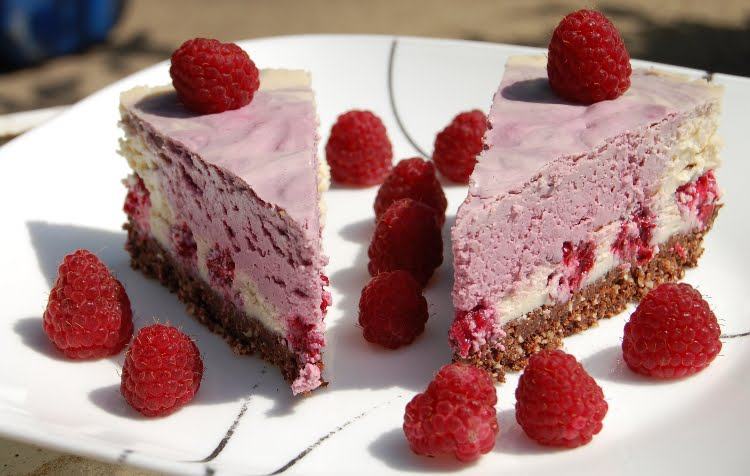 Chocolate Almond Crust
3/4 c almonds
3/4 c coconut flakes
1 1/2 oz raw cacao powder,
5 oz date paste (I use the weight in whole dates, and chop them in the food processor as I make the crust)
1/3 c raw cacao nibs

2 t liquid vanilla
1/8 t salt
Process all ingredients in a food processor until the mixture sticks when pressed between fingers. Press into a 10 inch springform pan.
Layer on top of the crust: 6 ounces fresh rasbperries.
White Chocolate Filling
3 cups soaked cashews (my favorites are Navitas Naturals Organic Raw Cashews)
2 cups almond milk
3/4 c agave syrup (although you can use healthier raw Coconut Nectar or even maple syrup)
2 T lemon juice
1/4 c liquid vanilla
1/4 t salt
3 T lecithin (Healthforce Lecithin Powder is non-GMO and high quality)
2/3 cup melted cacao butter
Blend all in a blender except for the last 2 ingredients. When smooth, add the lecithin and cacao butter, and blend a little longer. Reserve 2 cups of filling, and pour the rest on top of the crust/raspberries (reserve 2 T of the white chocolate filling as well).
In the reserved 2 cups, add 6 ounces raspberries and 2 T lemon juice, and blend until smooth.
Pour globs of the raspberry blend on top of the white chocolate filling here and there so that it pierces the surface of the filling. Then, with a knife or something similar, swirl the 2 layers together for a pretty marbled effect. If you find the top too pink, add the reserved 2 T of white chocolate filling to add more white.
Set in the freezer overnight to set. Then, unmold, and let thaw slowly in the fridge. Enjoy!
For more recipes, go to: http://www.CafeGratitude.com/
For Cafe Gratitude's AMAZING books, go here and here.