Fall calls for root vegetables, but in addition to growing the usual ones (turnips, carrots, potatoes, etc.), my husband also grows more obscure ones, like Jerusalem artichokes.
They are so easy to grow — we picked some up at the store, cut it up so that each piece has a tuber/eye, and planted each piece. They grew into tall, beautiful plants with bright yellow flowers. Gorgeous!
According to Wikipedia, "The artichoke contains about 10% protein, no oil, and a surprising lack of starch. However, it is rich in the carbohydrate inulin (76%), which is a polymer of the monosaccharide fructose. Tubers stored for any length of time will convert their inulin into its component fructose. Jerusalem artichokes have an underlying sweet taste because of the fructose, which is about one and a half times sweeter than sucrose.[5]

Jerusalem artichokes have also been promoted as a healthy choice for type 2 diabetics, because fructose is better tolerated by people who are type 2 diabetic. It has also been reported as a folk remedy for diabetes.[5] Temperature variances have been shown to affect the amount of inulin the Jerusalem artichoke can produce. When not in tropical regions, it has been shown to make less inulin than when it is in a warmer region".
We ended up with about 5 lbs of Jerusalem artichoke. The first recipe I created to use them was a tasty, garlic scented soup. It's very easy to make, and goes very well with a raw blue cheese like Roquefort.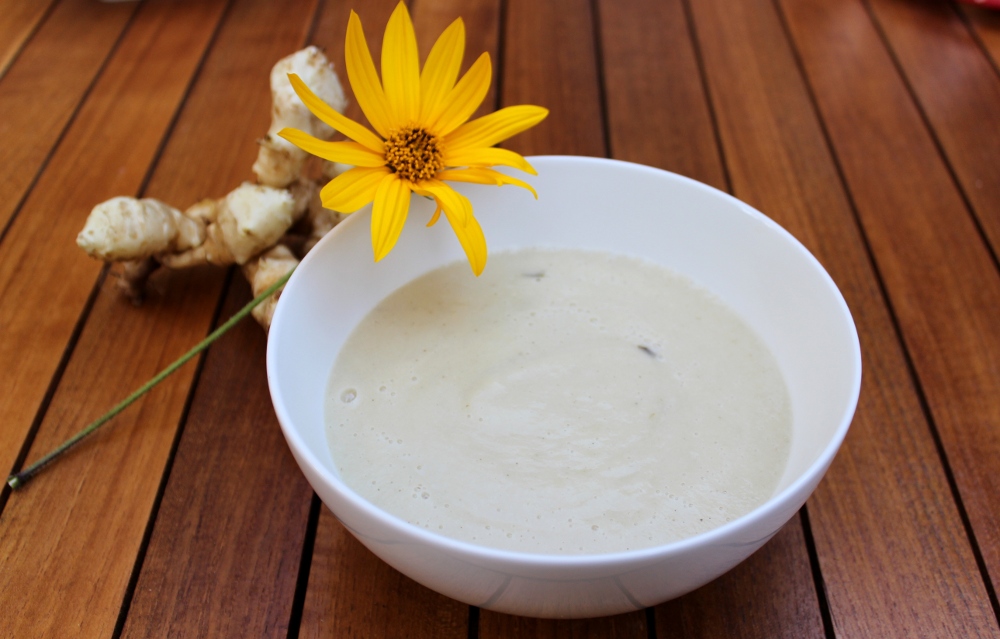 Creamy Jerusalem Artichoke & Garlic Soup 
Ingredients
– 5 cups Jerusalem artichokes, peeled and roughly chopped
– 1 T olive oil
– 1 onion, diced
– 3 garlic cloves, minced
– 1/2 t dried thyme
– 1/4 t sea salt
– Boiled water, about 2-3 cups.
– 1/4 c cream and 1/4 cup milk, or 1/2 cup half and half — preferably from pastured cows
Directions
In a saucepan, heat up the olive oil, then saute the onions, salt, and thyme until the onions are starting to brown. Add the garlic, stir for a short minute, then add the Jerusalem artichokes. Stir, then cook for a few minutes. Add boiled water to cover the vegetables. Simmer, covered, for 15 minutes.
When the Jerusalem artichokes are tender, blend the soup with the cream and milk until smooth. Taste, adjust for salt, and add a little more water if the soup is too thick. Enjoy!