Jump to recipe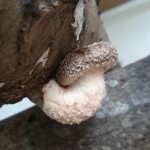 In addition to having backyard hens, we now also grow our own mushrooms. This is all thanks to my husband, green thumb extraordinaire, who loves experimenting in the garden. I let him do pretty much everything he wants — the backyard is his territory. I've only said "no" a few times; a composting toilet, we shall not have (yet!)
But mushrooms, I'm cool with them. See this little guy to the left? It's our very first mushroom. We've had a few more since then, and it reminded me of a delicious bowl I made a few months ago featuring shiitake mushroom, broccoli, potatoes, and lots of garlic. This recipe may seem a bit different from what I've been posting, and it is. I'm not a big fan of potatoes, unlike Matt, but I wanted to make something that would pleasantly surprise him, and that Franklin would eat up. And as it turns out, I loved it too.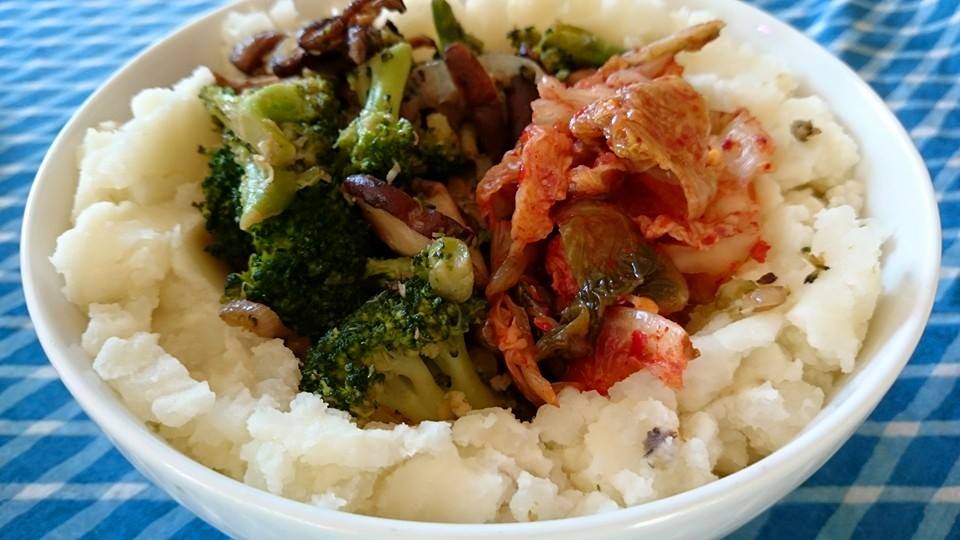 Garlicky Broccoli & Shiitake Bowl on Mashed Potatoes by Joanna Steven

Ingredients
For the garlicky vegetables
~ 10 shiitake mushrooms, sliced roughly
2 tablespoons pastured ghee, or coconut oil
2 shallots, diced
1 bag frozen broccoli, or about 1 lb fresh broccoli
4 cloves garlic, diced fine
1 tablespoon ghee
For the mashed potatoes
2 large Yukon gold potatoes, cubed
Water to cover
Salt to taste
Butter, about 2 tablespoons
Kimchi
Instructions
In a medium saucepan, add the cubed potatoes, and cover with water. Cover, and bring to a boil. Once boiling, cook for about 10-15 minutes, or until the potatoes are cooked and tender.
In the meanwhile, melt the ghee in a large pan, and add the shallots and shiitake mushrooms. Saute until they are both golden. Set aside in a bowl.
In the same pan, add the broccoli and a thin layer of water, cover, and cook the broccoli until tender, about 10 minutes. Check every once in a while, and add water as needed.
Once the broccoli is cooked, drain any remaining water, and add the mushrooms and shallots back to the pan. Stir, then add the ghee and garlic. Saute briskly until all the vegetables are covered in garlic, and cook for a few minutes. Add more ghee if desired.
You're almost done! Now, mash the potatoes with a potato masher or fork until nice and creamy. I basically mash the potatoes with a little of the cooking water, then add a little butter at the end and mash some more.
Scoop the mashed potatoes into bowls, top with the vegetables, and add some kimchi before serving.