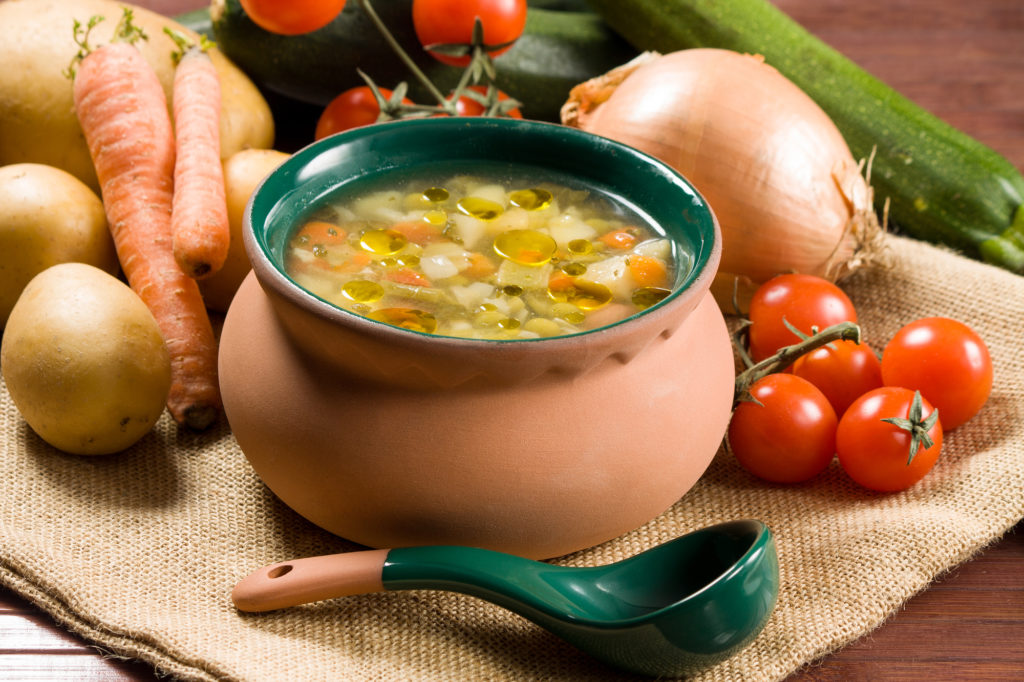 This is my favorite minestrone recipe, and the one I have shared in The Nourished Village Cookbook – A Year of Vegetarian, Soy Free & Gluten Free Recipes for the Whole Family. It is full of tender vegetables ready to eat in a flavorful broth accented with a vegan pesto sauce. It is also delicious the day after, and freezes well.
Minestrone with pesto

Ingredients
3 tablespoons olive oil
1 large onion, finely chopped
1 leek, sliced (optional)
2 carrots, finely chopped
1 celery rib, finely chopped
2 clove garlic, crushed
2 potatoes, peeled and cut into small dice
6 cups vegetable stock, low in sodium
1 bay leaf
1/4 teaspoon dried thyme, or 1 sprig of fresh thyme
3/4 cup frozen peas
2 medium zucchini, finely chopped
3 medium tomatoes, peeled and finely chopped
1 can garbanzo beans, about 14 ounces
Pesto
2 ounces basil leaves
1/4 cup walnut pieces
2 T hemp seeds
2 garlic cloves
Pinch salt
1/4 cup olive oil, plus more as needed
Directions for the pesto
Blend all in a small food processor until smooth. If made in advance, the pesto will stay in the fridge for a few hours covered in a thin layer of oil and kept tightly closed.
Directions for the soup
Heat the oil in a saucepan, stir in the onion and leek, and cook for about 5 minutes. Add the carrots, celery, garlic and potatoes, and cook for 5 more minutes. Pour in the stock, herbs, salt and pepper, stir well, and bring to a boil.
Reduce the heat, and let the soup simmer for about 10 minutes. Stir in the zucchini, and simmer for 5 minutes. Add the frozen peas and the tomatoes, and cook for about 8 minutes, covered.

About 10 minutes before serving, uncover the pan and stir in the beans. Simmer for 10 minutes, and add the pesto sauce. Simmer for 5 more minutes. Remove from heat, let cool a little, and serve.