Strawberry ice cream, and a crispy, rich chocolate shell… Need I say more? I guess I can also add that those on raw, vegan, paleo, and gluten free diet can indulge without guilt!
I created this recipe when Franklin was 3 years old. It looks fancy, but it's really easy to make, even with a toddler trying to eat everything!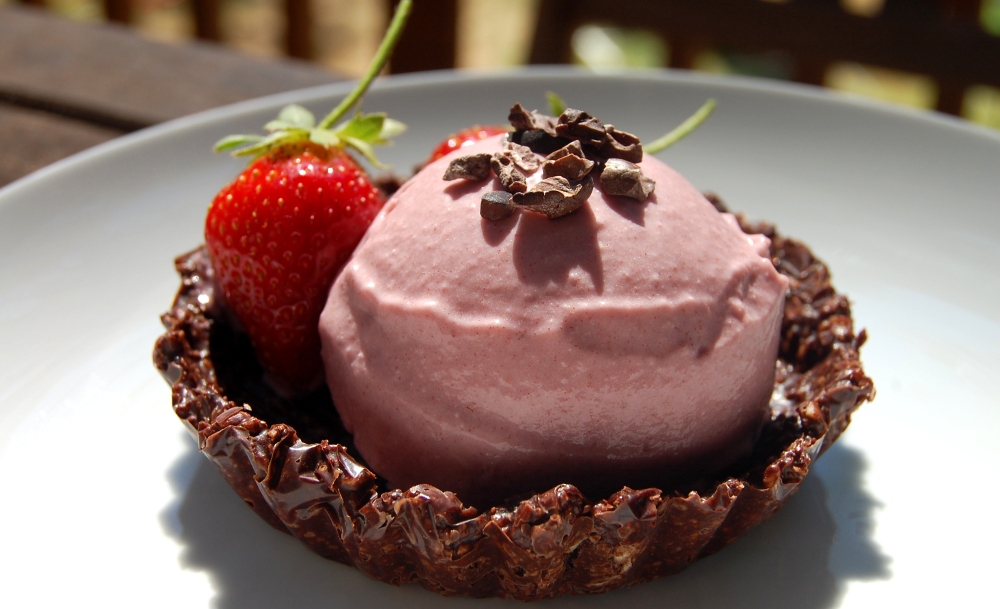 Ingredients
Instructions
Blend all the ice cream ingredients together until smooth. Refrigerate for at least 4 hours. Process in the ice-cream maker according to the manufacturer's instructions. Makes 4 quarts.
In a food processor, grind the almonds until finely chopped. Melt the cacao butter shreds, and
mix in the cacao powder and honey until you get smooth melted chocolate.
In a large bowl, combine the chopped almonds with the coconut flakes, stir well, then pour in the
melted chocolate. Mix the ingredients until well combined. Spread 1/4 cup up the sides of several
individual tart pans lined with plastic wrap, until the mixture is used up (other small serving bowls
large enough to accommodate a generous scoop of ice cream will work just fine). Refrigerate
until firm, about an hour.
Drop rounded scoops of finished ice-cream into each coconut nest. Serve immediately.
https://www.joannasteven.com/recipe-strawberry-ice-cream-in-cacao-coconut-nests-raw-vegan-paleo-gluten-free/