When it's hot, the kitchen may not be your favorite spot… It certainly isn't mine. When the sun is shining, I like to pack my boys and go for long walks, and definitely not stay indoors where everybody's bored!
But, I love soups, even in the summer when I want something quick and easy. This recipe fits the bill. It's creamy, flavorful, and is ready in a snap. It also uses fresh ingredients you can pick up at the market, or get quite fresh at pretty much any supermarket.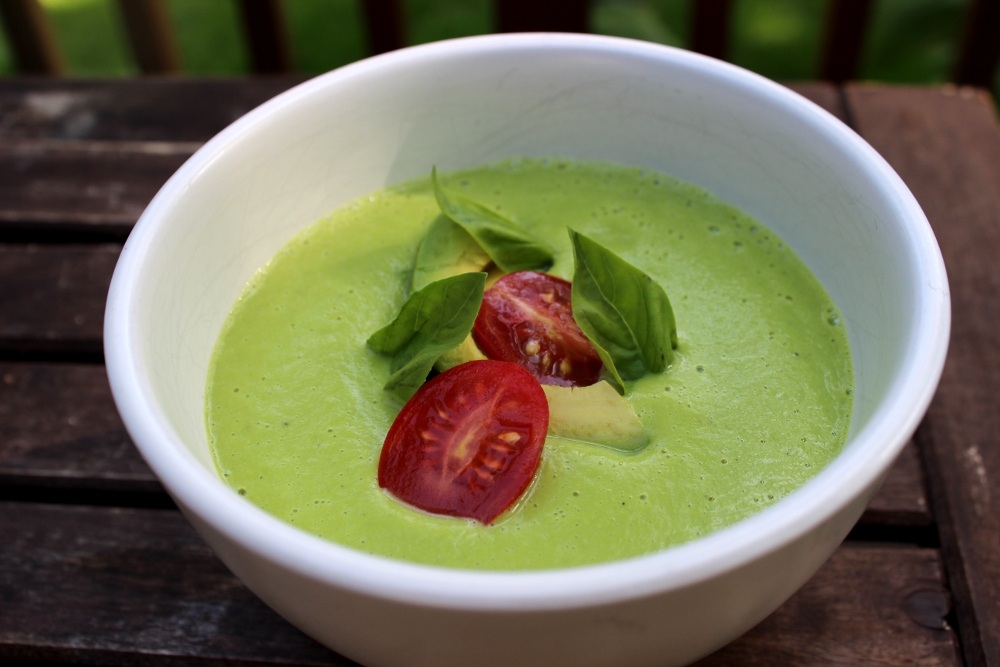 Sweet Pea and Basil Soup
Ingredients
– 1 T pastured ghee, or coconut oil
– 1/3 c shallots, chopped, about 1 large
– 1 10-oz frozen peas, no need to thaw
– 2 cups water, brought to a boil
– 1/4 – 1/2 t sea salt or herb salt (I used Herbamare)
– 1/3 cup well packed fresh basil
– 1/3 cup heavy cream
– 1/2 avocado, with the other half kept for decoration
– Extra basil leaves, halved baby tomatoes
Directions
Melt the oil in a medium sized saucepan. When hot, add the shallots, and saute until golden.
Add the peas, salt, and hot water, bring back to a boil, and cook, covered, for about 10 minutes.
Transfer the soup to a blender, add the basil and cream of choice, and blend away. Add the avocado during the last 30 seconds of blending.
Taste and adjust for seasonings, although it should be perfect by now! Serve into 2 bowls, add leftover slices of avocado and some cherry tomatoes. Sprinkle a few basil leaves on top. You're done!