Jump to recipe
With Saint Patrick's Day just around the corner, what could be better than a mint flavored, creamy cheesecake with a triple dose of chocolate? My triple chocolate mint cheesecake has a dark cacao, brownie-like crust, topped with a creamy mint white chocolate filling, and finished with a solid disk of chocolate on top. It's to die for! I often make it during the year for my gluten free, lactose intolerant friends. It is always well received.
I had previously published a version of this cheesecake on another site, but they changed the ingredients so much that I honestly wouldn't be able to tell you if it tasted the same. This version is exactly what I make for my friends and family.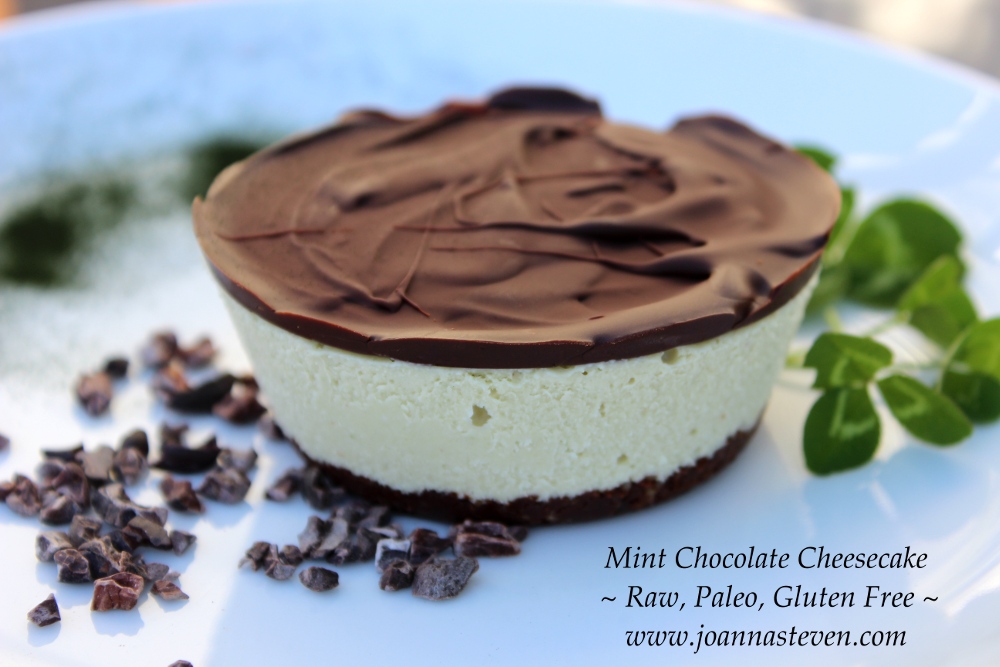 Triple Chocolate Mint Cheesecake by Joanna Steven

Ingredients
Crust
Filling
Top chocolate layer
Instructions
Line a 9-inch springform pan with parchment paper.
In a food processor, blend the crust ingredients until finely ground and starting to stick together. Do not over process. Spread the mixture in the pan, and press down firmly. Set aside.
In a high speed blender, blend all the ingredients except the cacao butter. When fully blended, add the cacao butter. Blend for another minute. Pour on top of the crust.
Place in the freezer for a couple of hours, or until firm.
Melt the chocolate chips, pour on top of the frozen cheesecake, and place back in the freezer overnight (or for another 4 hours at least).
The next morning, pop the cheesecake out of the pan, and set it in the fridge to thaw. Cut just before serving. Running very hot water on your knife will help cut through the top chocolate layer. Enjoy!
This cheesecake will keep in the fridge for 3-4 days.