"Eat the Rainbow" is a common dietary recommendation, because it helps get the full spectrum of vitamins and minerals. You get all the colors in this salad, which my husband described as "surprisingly delicious!"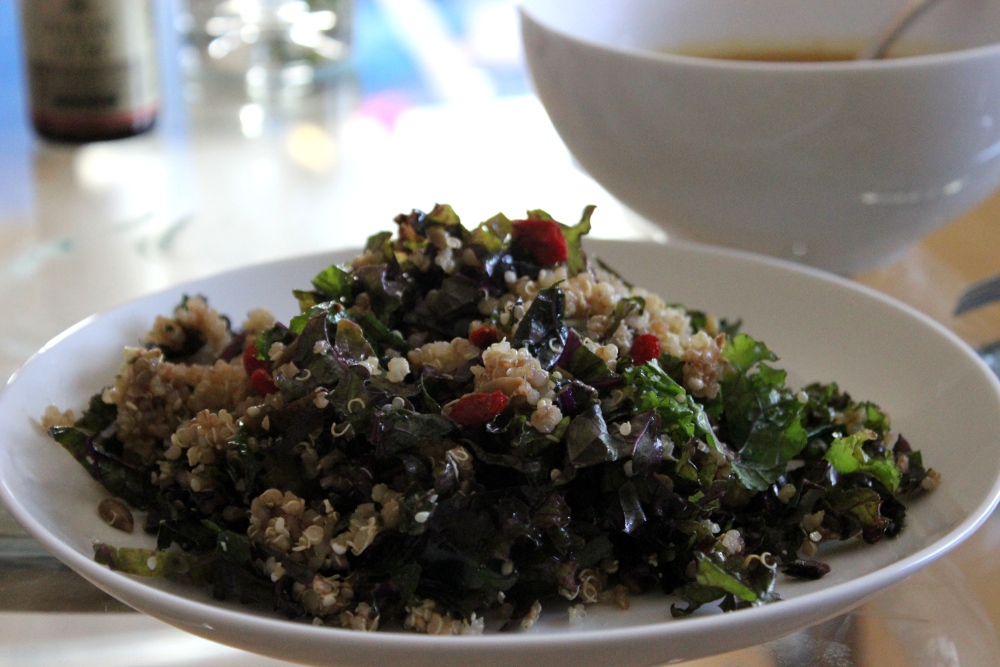 Superfood Rainbow Kale Salad Ingredients & Directions: – 1/2 c. quinoa, dry – 1 cup boiling water – Pinch sea salt Cook the quinoa in the boiling water and salt at low heat for 15-20 minutes. Keep covered, and set aside while you prepare the rest of the salad.
Soak in 3 T orange juice: – 1 1/2 T dried blueberries – 1 1/2 T Dragon Herbs Heaven Mountain Goji Berries (the best ones ever!) – 1 t flax seeds or chia seeds In a large bowl, massage: – 4 cups shredded kale (about 5 large leaves) – 1 t olive oil – Pinch salt
In the quinoa, add the: – fruits soaked in orange juice (with any remaining juice), along with: – 1 T sunflower seeds – 1 T hemp seeds – 2 T pomegranate seeds (optional) – 2 T balsamic vinegar – 1 T olive oil Toss everything well, and set aside to cool further. This will soften the kale even more. Enjoy!