A cross between a tender bean patty and a flavorful falafel, these patties are tender and tasty enough to please picky palates, but sturdy enough to dip into a luscious tahini dressing. My secret weapon when making patties is this nifty set of measuring cups by Cuisinart. They aren't sold anymore on Amazon, but if you find something similar (basically a 1/4 cup measuring cup shaped like a "patty mold") get them. All you need to do is fill it with the mix, and whack it in the pan to get a perfectly shaped patty out. If you don't have anything like it, no worries. Wet your hand, or oil them, and shape them yourself. They'll still be beautiful, and delicious!
I like to serve these patties on a bed of lettuce with various vegetables (tomatoes, cucumbers, radishes, sprouts, red peppers, etc.) and drizzle the whole thing with the tahini dressing. This is one of the many recipes featured in the first volume of the Nourished Village Cookbook.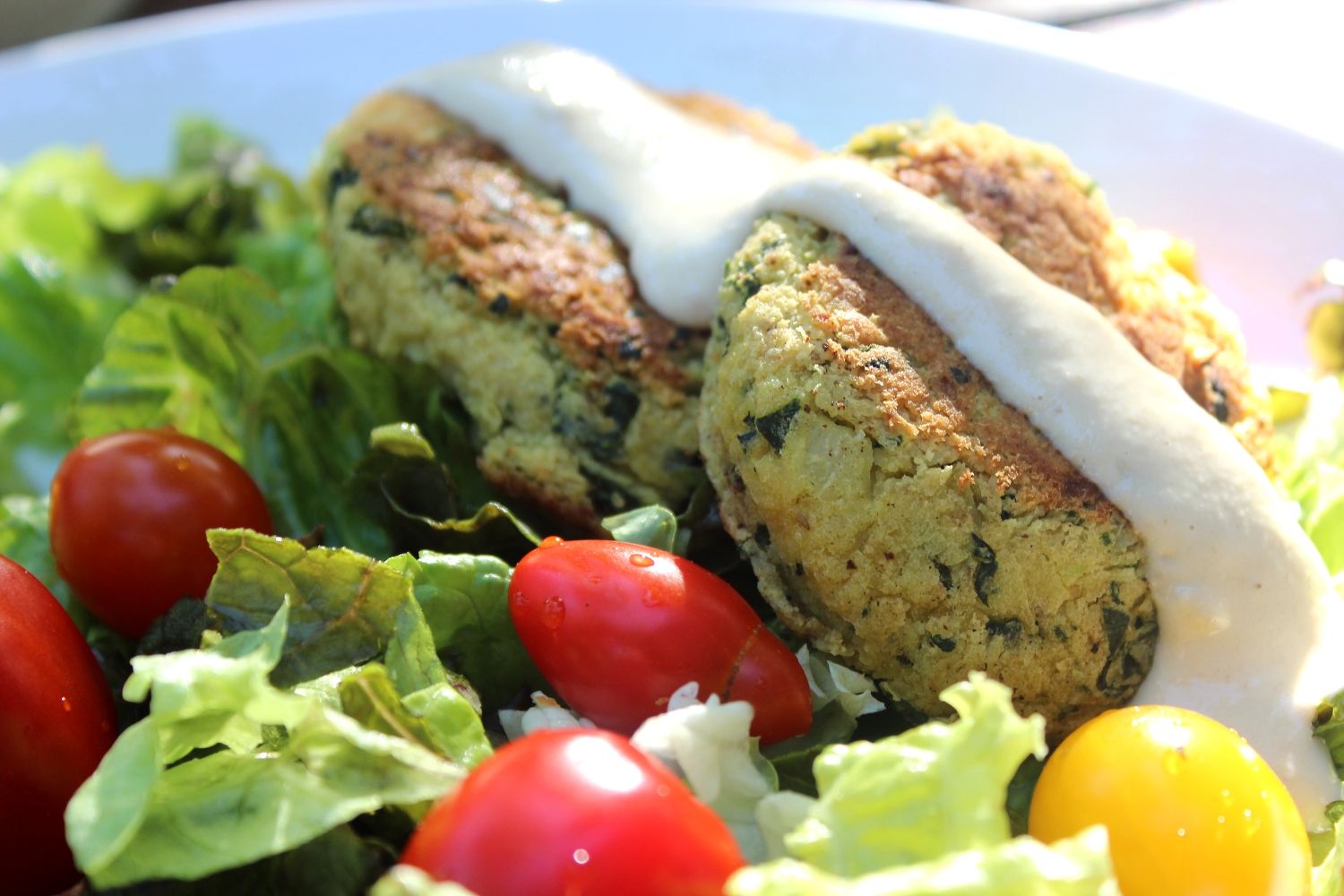 Ingredients
For the tahini dressing:

1/2 cup tahini, preferably organic
Juice of one lemon
Pinch salt
1 garlic clove, finely minced
1/2 - 1 cup or so water, to achieve an easy-to- drizzle consistency
Instructions
For the patties:

Melt 1 teaspoon ghee in a large pan, and add the onions. Cook until golden.
Add the kale and garlic, stir until the kale is wilted, then turn off the heat.
In the meanwhile, puree the chickpeas and egg in a food processor. Add the almond flour and spices, and pulse until combined. Add the cooked vegetables, and pulse some more. You
want a smooth consistency, but with pieces of whole kale. You don't want uniformly green
patties.
Melt 1/2 tablespoon ghee in the same saucepan. Drop quarter cup amounts of batter in the pan, and cook 3 minutes on each side, or until golden and crispy. Set the patties in a warm oven, and continue with the rest of the batter. If using a measuring cup to shape the patties, rinse and dry the cup every 2 patties so they do not stick.
The patties will stay firm and will not fall apart when flipped if you wait for them to be beautifully golden before flipping.
For the dressing

Mix the garlic and lemon juice with a fork. Add the tahini, and mix some more.
Add the water, seasonings to taste, and stir until totally smooth. Taste, and adjust for salt.
https://www.joannasteven.com/recipe-chickpea-kale-patties-vegetarian-gluten-free/