Jump to recipe
The cold season has begun, and Franklin came home one day with a runny nose. Unfortunately, I have 0 patience for sickness in my house — it sounds harsh, but I spend my days cleaning, cooking, working, entertaining, and the last thing I want to do is also nurse someone through an illness, even if it's just a cold. If it materializes, so be it, but I'm going to do my best to nip it in the bud!
When my loved ones are sick, I always bust out the ginger and garlic. They are potent anti-bacterial wonders, and they taste great too. And since my husband had bought a bag of carrots from Trader Joe's, I figured that a carrot soup would do just the trick. Bonus: this soup makes great baby food too. I also added a little red curry paste, since I can't have enough of the stuff ever since I tried it in Heather's amazing Butternut Squash Soup.
Franklin loved it. Baby Nicholas loved it. We all did. And, no one got sick, although I will also credit our trusted elderberry tincture for that!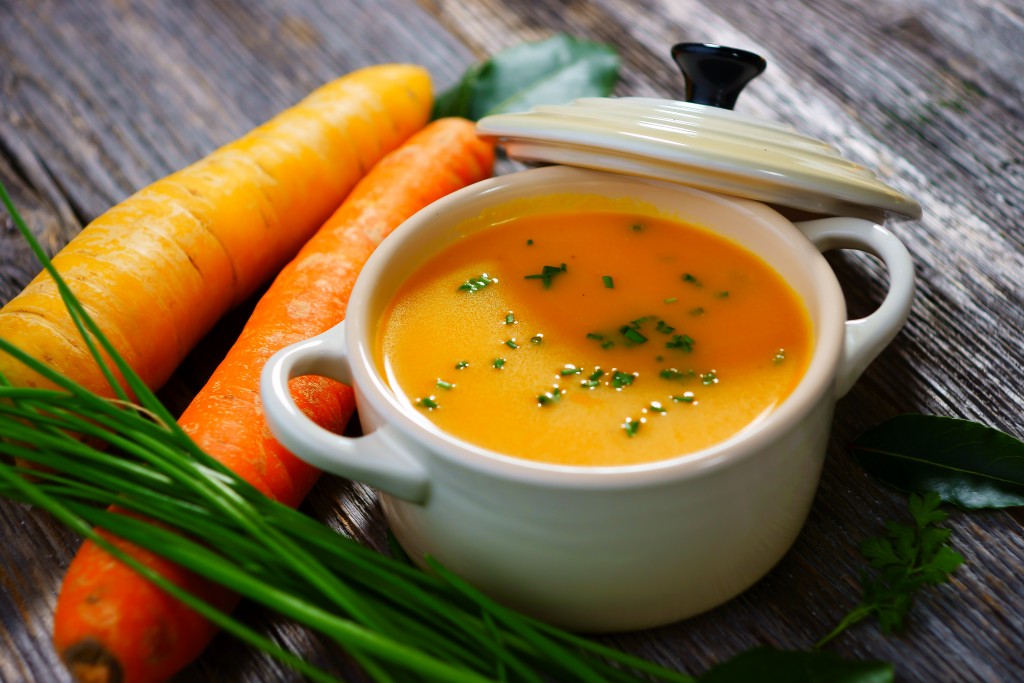 Immune Boosting Carrot Coconut Soup by Joanna Steven

Ingredients
1 tablespoon coconut oil
1 onion, diced small
1/2 inch ginger, grated
4 large garlic cloves, minced
2 lbs carrots, peeled, coarsely chopped
1 large potato, peeled, cut into 1-inch dice
1 t red curry paste (I use this one)
Pinch of salt, to taste
Boiled water, to cover
Instructions
In a large saucepan, melt the coconut oil.
Add the onion, and sauté until it starts to become golden. Add the ginger and garlic, and cook for another minute.
Add all the vegetables and curry paste, and stir to coat.
Add enough water to just cover the ingredients. Cover, and cook for about 20 minutes, or until the potatoes are fully cooked.
Blend the soup until smooth with a pinch of salt. Pour it back into the pan, add the coconut milk, and taste again for salt.