I love sea vegetables. They provide me with countless nutrients including the elusive iodine, they bring delicious saltiness to my life (I'm a fat n' salt kind of girl, not a low fat n' sugar one for sure) and they are loaded with minerals. I try to have sea veggies every single day, usually more than once.
When I was insistent on keeping fully raw, I dutifully checked the seaweed packages to make sure that what I was buying was totally uncooked. So, I ate raw nori sheets, raw dulse, raw kelp, etc., but not arame. Total mistake! Arame is very nutritious and absolutely delicious – it's the only kind of seaweed that my husband will happily eat without complaining of "fishiness" even if he's eating a bowl full of it. So far, arame salad and simply sprinkling kelp granules on his food are winners for him.
I made this delicious salad a few weeks ago, and then made it again a few days later. It's so good I could really eat it every day without getting bored of it.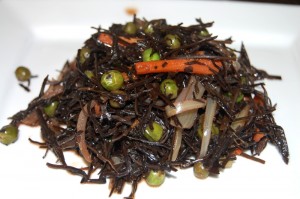 Nourishing Arame Seaweed Salad with Vegetables
Ingredients
– 1 cup arame seaweed, soaked 20 minutes in water to cover
– 1 carrot, cut into matchsticks
– 1/2 small onion, cut into thin slices
– 1/2 cup green peas, frozen and lightly thawed
– 1 T coconut oil with a dash of toasted sesame oil
– 1 T nama shoyu or tamari
Directions
In a saucepan, melt the coconut oil and sesame oil over medium heat. Add the onions and carrots, and saute for about 10 minutes, until softened, fragrant, and starting to brown.
Drain the arame, and add to the pan. Saute for a minute or so, then add 1/4 cup water, and cover. Simmer for about 15 minutes, then uncover so any leftover water can evaporate (it's OK if there's water left in the pan in the end, it's still tasty). Add the nama shoyu, adjust for seasonings if needed, and serve. Enjoy!
Join us on our Remineralize Your Body program to remineralize yourself and restore your energy, hormonal balance, and natural beauty! Learn all about juicing, blending, seaweeds, cultured drinks and fermented vegetables, phytic acid breakdown and nutrient activation, and much more, along with daily coaching with our remineralization team! – See more at http://ediblegoddess.com/remineralize-your-body-now/