We love make ahead meals around here. Well, I do, anyway. I'm in charge of all the cooking, but don't want to rush making dinner while my children are losing it after a long day of hard playing. What I often end up doing, then, is cook meals during a nap or a free moment, and reheat them just before serving. Soups fit the bill pretty well for this purpose, but sometimes, we want something different… Like this addictive, veggie loaded shepherd's pie. I often make it for our Christmas dinner, and all the chopping counts as a bonus meditation!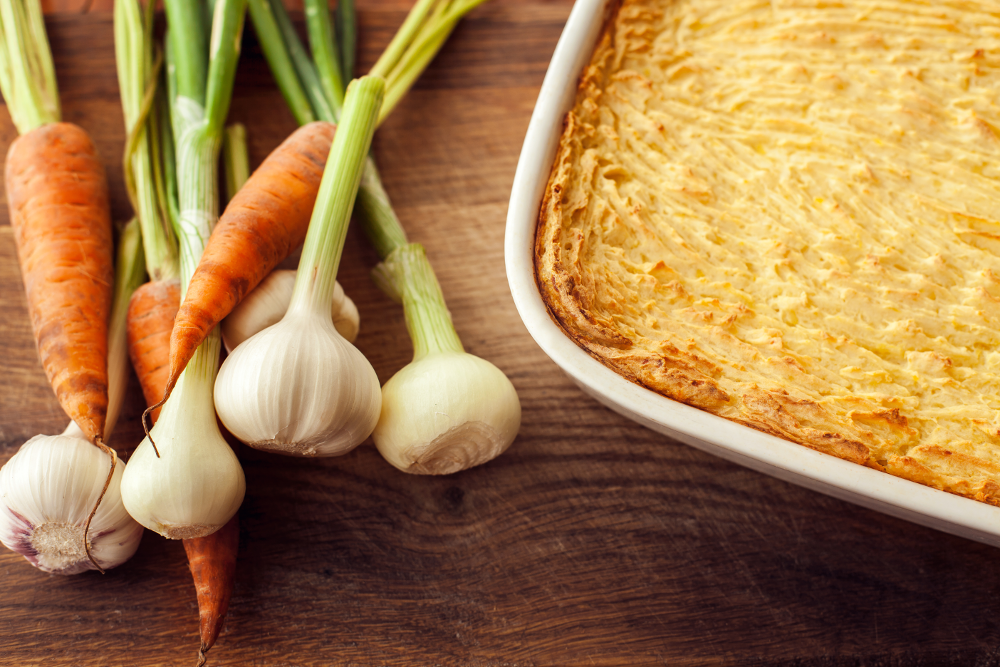 Ingredients
For the potatoes:

4 medium potatoes, cut into 1/2 inch dice
Water, to cover the potatoes
Salt, scant 1/2 teaspoon
2 tablespoons butter or olive oil
For the vegetables:

2 tablespoons oil of choice (I like olive oil for this dish)
1 onion, diced small
1 red pepper, diced small
1 large celery stick, diced small
1 carrot, diced small
1 zucchini, diced small
4 garlic cloves, minced
1 tablespoon tomato paste (organic ketchup can also be used)
1 14-oz can of organic black beans (other beans will work, as would lentils)
1 1/2 teaspoon Bragg's Sprinkle seasoning, or Herbes de Provence
1/4 teaspoon smoked paprika
Instructions
In a medium saucepan, cover the potatoes with water, and add salt. Bring to a boil, then cook for about 10 minutes, or until the potatoes are tender and ready to be mashed.
In the meanwhile, heat the oil in a large pan. Add the onions, red peppers, celery, carrots, and zucchini.
Cook for about 10 minutes, or until the vegetables start to turn golden. Add the garlic, tomato paste, and paprika. Cook for a minute, then add the beans, and herb seasoning. Add a layer of water, and simmer the vegetables until hot and fully cooked. Keep adding water if it evaporates.
In the end, you want to retain some of the water, about halfway up the vegetables. Add a pinch of salt, taste, adjust seasoning if needed, and turn off the heat.
Mash the potatoes with a little cooking water until creamy. Adjust seasoning. Add butter or oil, if using.
In a square oven proof pan, pour all the vegetables and water. Top with the mashed potatoes.
Bake at 350 degrees Fahrenheit for about 10 minutes. Enjoy!
You can make this dish in advance and bake just before serving. Simply bake for longer, until hot.
You can add other vegetables, like peas, chopped kale, root vegetables, etc.
https://www.joannasteven.com/recipe-addictive-veggie-loaded-shepherds-pie-vegan-gluten-free/