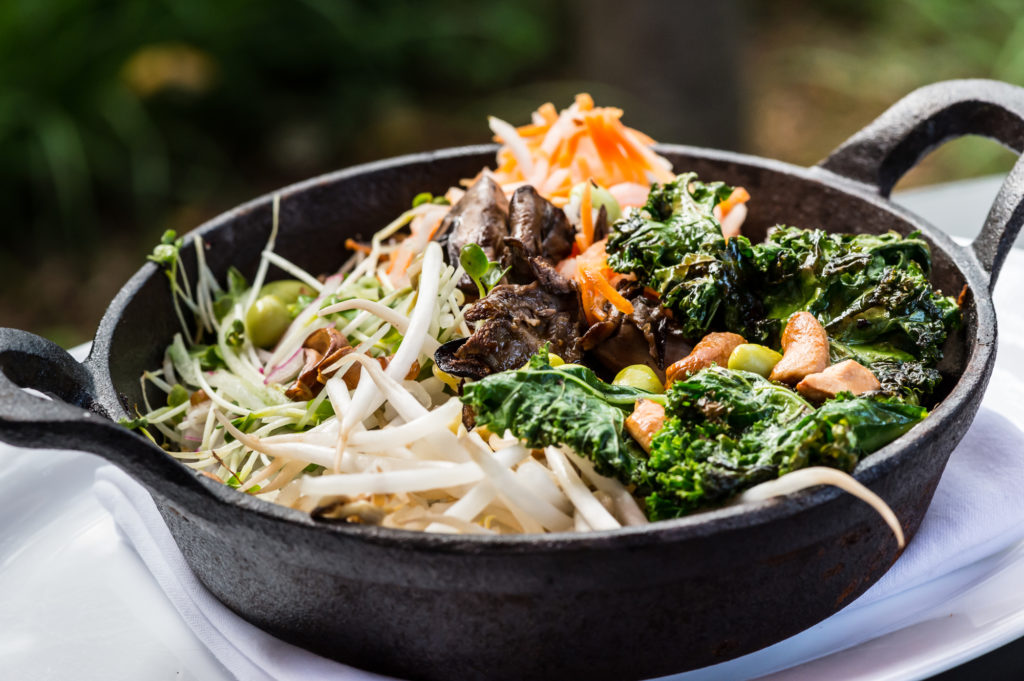 I don't know anything about traditional Asian cuisine. Now that that's out of the way, let me also say that I'm a huge, huge fan of traditional ferments like kimchi, and you all already know my love of sturdy leafy greens. This is a bowl I make often because it is filling, full of probiotics and fiber, and exploding with flavor. It is adapted from the Broccoli Rice Bowl recipe I shared in the Nourished Village Cookbook – Volume 1.
Asian Inspired Rice Bowl with Greens & Kimchi
I love quick and easy meals that pack a lot of flavor. This one contains nutritional superstar broccoli, immune system boosters garlic and ginger, and probiotic rich kimchi. It's super easy to make if you use frozen broccoli.
Ingredients
10 oz small broccoli florets (about 2 cups) or kale
1/2 red pepper and 1/2 yellow pepper, or 1 whole pepper of either color
1/2 tablespoon coconut oil
2 large garlic cloves
1/2 inch piece of ginger
1/2 cup white rice
1 cup water heated to the boiling point
1/4 cup chopped almonds
1/2 to 1 cup kimchi
Garnish: bean sprouts, microgreens, nori strips, toasted nori, toasted slivered almonds…
Directions
Place broccoli/kale and peppers in a medium sized saucepan with 1/4 cup water. Cover, and cook for about 5-10 minutes on medium heat, or until the broccoli is thawed/steamed (but not fully cooked). Check occasionally to make sure the water hasn't fully evaporated.
In the meanwhile, using a microplane grater, shred the garlic and ginger. You can also finely chop them if you've got good knife skills, but the microplane grater is quick and easy, and removes the tough ginger fibers.
If there is still some water in the pan, drain it off. Toss the vegetables with the coconut oil, then add the garlic and ginger to the broccoli, give them a stir, and add the rice.
Pour in the hot water, add a pinch of salt, and cover. Cook for 15 minutes, or until the rice is cooked. Variation: You can cook the veggies separately from the rice and add them on top before serving.
Spoon into bowls, top with kimchi and garnishes, and serve.