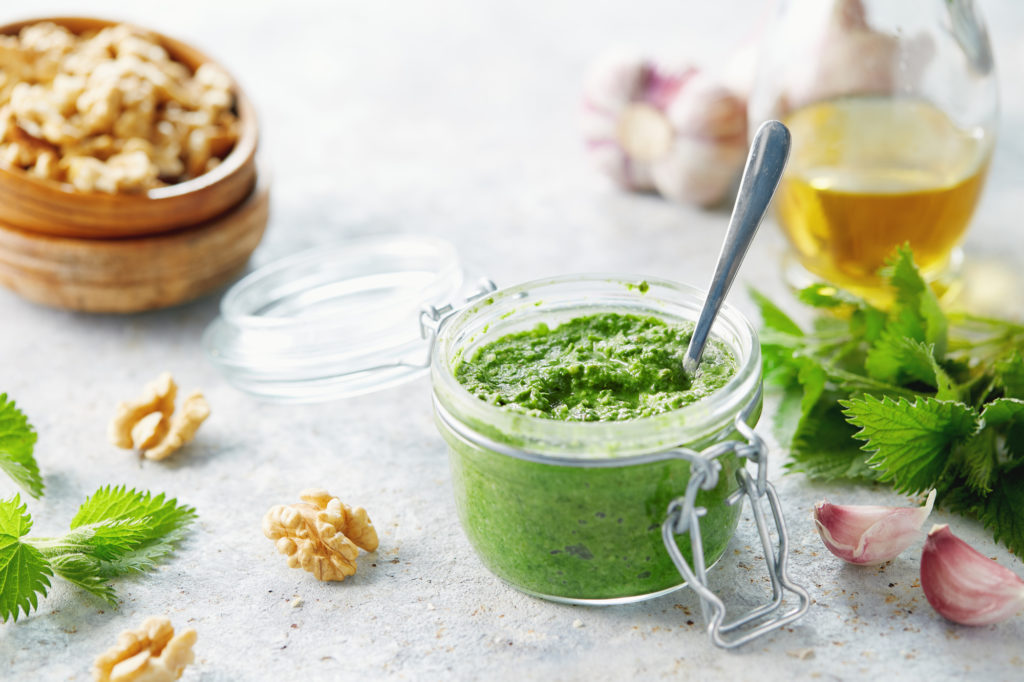 I love Mediterranean flavors – basil, tomatoes, and other fresh vegetables are staples for me when the weather warms up, and I am known to make pesto by the pound to eat right away or freeze for later.
In this vegan pesto recipe, I am using hemp seeds instead of pine nuts to increase the nutritional value of the pesto while spending less. And by using walnuts alongside it, I am still getting a traditional pesto flavor – you can of course sub the walnuts for pine nuts for a creamier but pricier version! And the ultimate tweak… Substitute some nettles for the basil for the ultimate superfood spread!
Flavorful Vegan Pesto with Hemp Seeds and Pine Nuts
Ingredients (serves 2)
2 ounces basil leaves, washed
2 garlic cloves
1/4 cup walnut pieces
1/4 cup shelled hemp seeds
Pinch salt
Olive oil to form a creamy spread, about 1⁄4 cup
Directions
Blend everything but the olive oil in a food processor until finely chopped. Drizzle in the olive oil little by little until you get a smooth spread.
Tip: Cover the pesto with a layer of olive oil to prevent it from going brown if you're storing it in the fridge. Or blanch the greens in boiling water for a minute or so, and your pesto will stay a vibrant green until you're ready to eat it!