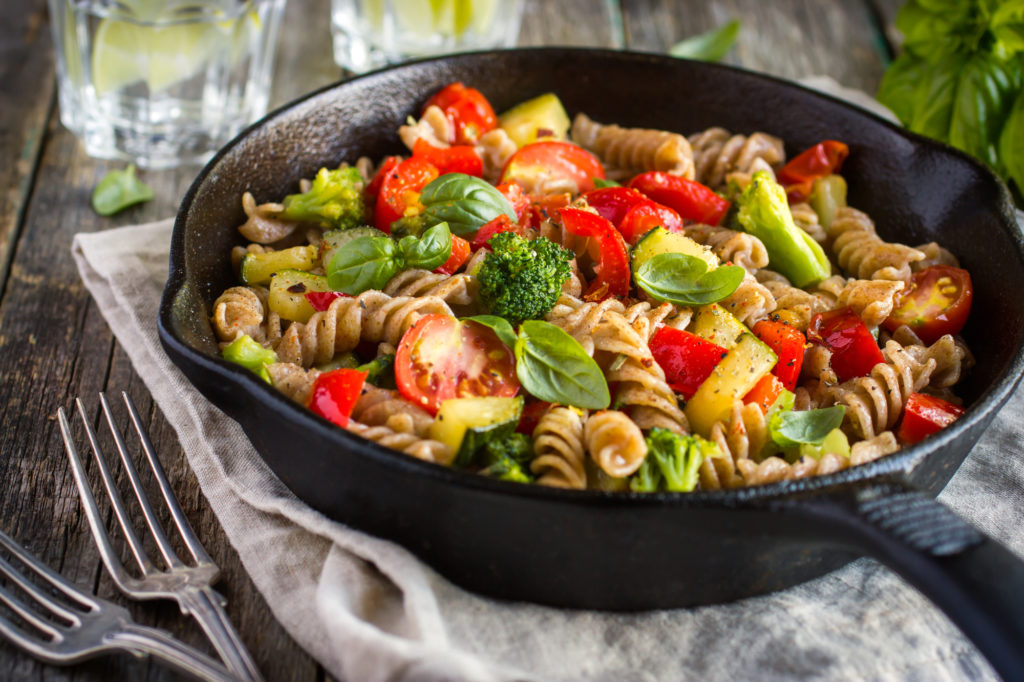 Sometimes, we'll eat some pasta. My kids, like all kids, love it! My favorite way to serve it is with lots and lots of veggies, ans since you can of course vary the ingredients, the possibilities are endless and no one gets bored. Broccoli, Brussels sprouts, bok choy, onion, spinach… The list goes on.
Ingredients (serve 2)
4 ounces brown rice pasta or your favorite pasta
1 zucchini, cut in quarters lengthwise, and chopped into smaller pieces
1 cup broccoli florets
1 red pepper, diced
2-3 garlic cloves, finely minced
Half bunch of kale, shredded fine
1 cup halved cherry tomatoes
1/2 T coconut oil
Directions
In a medium saucepan, bring water to a boil to cook the pasta. Add a generous pinch of salt.
Cook the pasta until cooked according to the package, usually around 7-10 minutes. If the pasta is done before the veggies, toss them in a little extra virgin olive oil and set aside.
In a saucepan, add all the veggies except the tomatoes and garlic, and steam, covered, with 2-3 T water.
Uncover, drain any remaining water, and add the oil and garlic. Toss for about 5 minutes, then add the cherry tomatoes. Toss for a few more minutes. Add a pinch of salt and some freshly ground pepper, toss with the pasta, and serve with small basil leaves as garnish.
If you eat dairy, some crumbled feta cheese goes great with this.